Raiders Expecting Jets to Run
Thursday, Sep 22, 2011 | Updated 4:45 PM PDT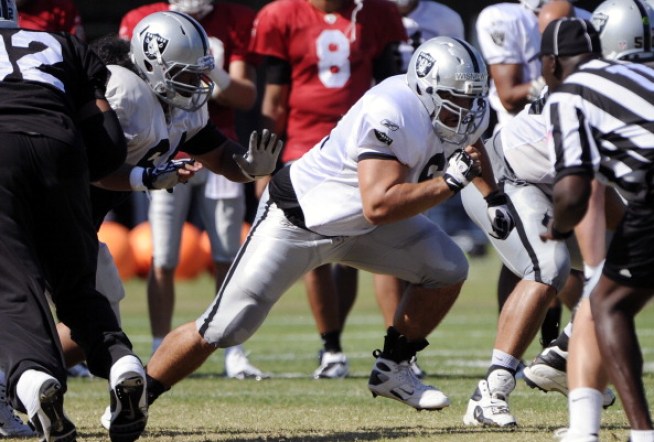 Getty Images
NAPA, CA - AUGUST 5: Stefen Wisniewski #61 of the Oakland Raiders participates in drills during practice at the Oakland Raiders training facility on August 5, 2011 in Napa, California. (Photo by Thearon W. Henderson/Getty Images)
Even though it's been almost two years since the Raiders last played the New York Jets, Oakland defensive tackle Tommy Kelly won't have to do much studying this week to prepare.
After being part of a defense that allowed 223 yards rushing and 35 second-half points in a 38-35 loss to the Buffalo Bills last week, Kelly expects Rex Ryan and company to follow suit and keep it
on the ground. Why wouldn't they?
It was the same formula the Jets used in 2009 when they beat the Raiders by 38 points, the most lopsided home loss in franchise history. A lot has changed in Oakland since then, but the team's
problems defending the run have remained a constant.