Sharks Streak Snapped After Shootout
Sharks lose 3-2 in shootout to L.A.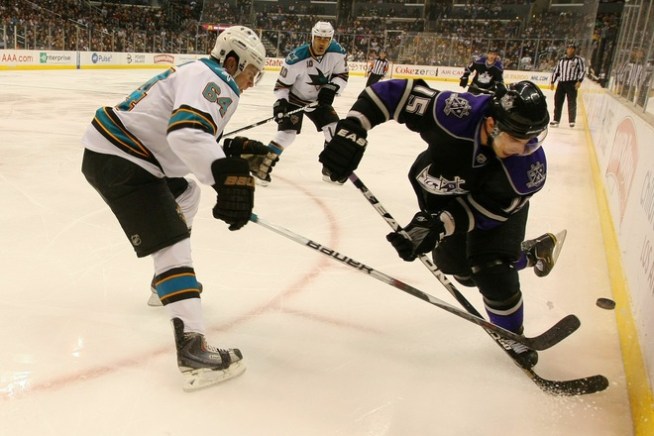 Getty Images
LOS ANGELES, CA - JANUARY 26: Jamie McGinn #64 of the San Jose Sharks and Brad Richardson #15 of the Los Angeles Kings fight for the puck against the boards at Staples Center on January 26, 2011 in Los Angeles, California. (Photo by Victor Decolongon/Getty Images)
Ryan Smyth scored his 19th goal and Alexei Ponikarovsky tied it early in the third period for the Kings, who played their final home game until Feb. 24. They'll be on a 10-game road trip while Staples Center is occupied by the Grammys and the NBA's All-Star weekend.
Ryane Clowe and Devin Setoguchi scored 39 seconds apart late in the second period for the Sharks, who had won three straight at Staples Center.

Antti Niemi made 18 saves for the Sharks, but Stoll beat him cleanly in the shootout after All-Star Anze Kopitar and Jack Johnson both hit the post on Los Angeles' first two tries.
Quick then stopped Patrick Marleau on the Sharks' final try in the NHL's final game before the All-Star weekend break.
The Sharks and Kings will be grateful to get out the January doldrums next week. Both clubs recently emerged from their worst skids of the season, submerging two of last season's playoff teams near the bottom of the Western Conference.