On Golden Ponds: Team USA Puppy Love Contagious in Sochi
Men's hockey team now getting in on the action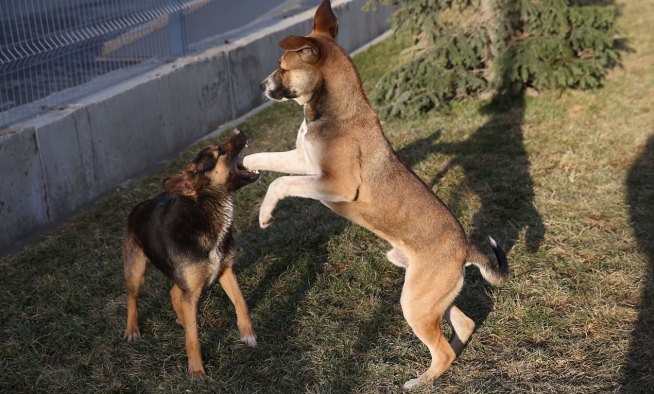 Getty Images
Dogs are seen fighting outside the Gorki Media Centre on February 15, 2014 in Sochi, Russia. (Photo by Julian Finney/Getty Images)
It looks like Gus Kenworthy isn't the only U.S. Olympian who has a thing for the dogs of Sochi.
Kenworthy has made headlines during the Games for running across a group of stray dogs in Sochi and tweeting out some pictures while saying he's trying to acquire all of the proper paperwork and vaccinations in order to bring the dogs back home with him after his Olympic experience is over.
David Backes, a dog lover in his own right, tweeted at the medal-winning freestyle skier with a question:
So it looks like puppy love is spreading from the slopes to the hockey rink.
No word yet on who exactly on the men's team wants to take home a pooch or two, but goalie Ryan Miller says the players' family hotel has a new mascot:
And Backes's animal organization tweeted out another photo of the St. Louis Blues forward and his teammate, Kevin Shattenkirk, snuggling up with a few Sochi strays:
Heck, even Kelli Stack of the women's team wants in on the action.
There also is an update on the dogs that Kenworthy is trying to bring home.
Check out this cuteness tweeted by reporter Rachel Nichols