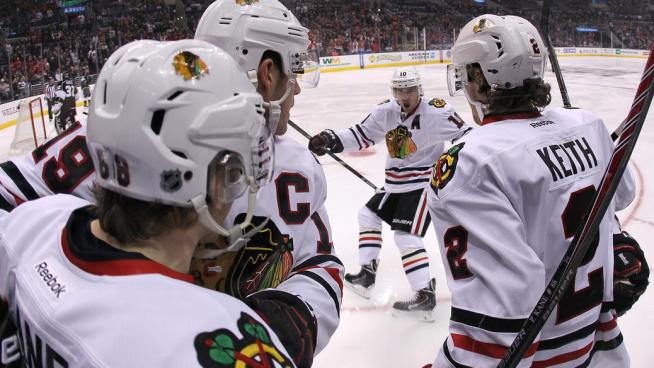 Getty Images
LOS ANGELES, CA - FEBRUARY 03: Patrick Sharp #10 of the Chicago Blackhawks celebrates a goal by teammate Patrick Kane #88 in the first period against the Los Angeles Kings during the NHL game at Staples Center on February 3, 2014 in Los Angeles, California. (Photo by Victor Decolongon/Getty Images)
The Chicago Blackhawks sent 10 of their best players to the Sochi Olympic Games, and while most of the professional hockey team's fans are relegated to following their exploits on TV, there are a select few lucky enough to catch them in action in Russia.
One of those fans is Brian Hansen, a speedskater from Chicago who finished in 7th place in the men's 1500 meters race on Saturday. Despite his lack of medals in Sochi (he won a silver medal in Vancouver in 2010), Hansen has been busy collecting something else: pictures of himself posing with various members of the Blackhawks.
So far, Hansen has gotten pictures with seven different players, with only Duncan Keith, Jonathan Toews, and Patrick Kane being left on the list.
The first player he got was Marian Hossa of Team Slovakia:
Swedish forward Marcus Kruger was next on the list:
He killed two birds with one stone when he caught up with Swedish defensive pairing Niklas Hjalmarsson and Johnny Oduya:
Michal Handzus completed the Slovakian Blackhawks contingent:
The Czech Republic's lone Blackhawk Michal Rozsival was number six:
And finally, he caught up with Patrick Sharp on Monday morning:
Hansen should be able to get a chance to take pictures with the rest of the team in the next few days, as both Canada and Team USA are off until Wednesday's quarterfinal round.