Segway Rental Coming to Golden Gate Park
Because walking and biking are apparently too difficult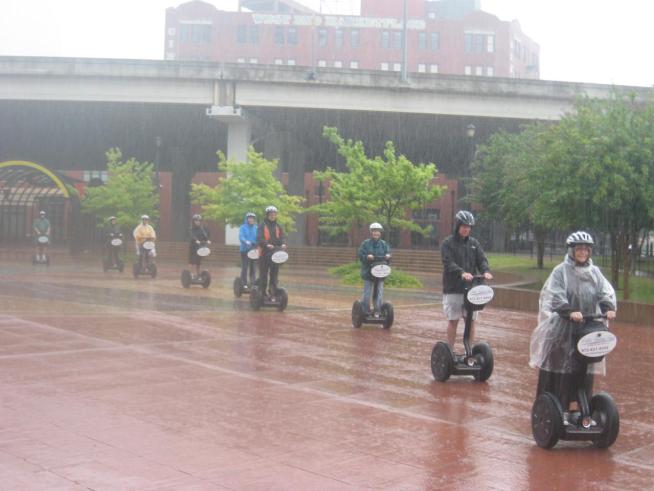 Photo Attached Glide Dallas With US! Dirk Smith Dallas Segway Tours www.DallasSegwayTours.com Reservation Line: 972-821-9054 Office Line: 214-450-9576 Mailing Address: P.O. Box 2156 Carrollton, TX 75011-2156 PROPRIETARY-CONFIDENTIAL INFORMATION INCLUDED This electronic transmission, and any documents attached hereto, may contain confidential, proprietary and/or legally privileged information. The information is intended only for use by the recipient named above. If you received this electronic message in error, please notify the sender and delete the electronic message. Any disclosure, copying, distribution, or use of the contents of information received in error is strictly prohibited, and violators will be pursued legally.
San Francisco's cash-strapped Recreation and Parks Department is looking to earn a little extra money -- $35,000 a year -- by allowing a private company to set up a Segway-brand scooter rental kiosk in Golden Gate Park.
A pilot program that only allowed online and phone orders in 2008 netted Silicon Segway $46,000, and could likely net a good deal more with walk-up business.
Scooter tours of San Francisco are nothing new, and you can often see a pack of riders buzzing around the grounds of Fort Mason or on Stockton Street in North Beach.
To be fair, the electric-powered scooters are a lot quieter and less polluting than those GoCars. But honestly, if you're coordinated enough to ride a Segway, you can ride a bike, which are already available for rent at the Stowe Lake Boat House.
Just remember, kids, like bikes, it is not legal to ride your Segway-brand scooter on city sidewalks.
Jackson West has ridden a Segway, but only ironically.