Eat Like a Champ
Saturday, Aug 21, 2010 | Updated 3:45 PM PDT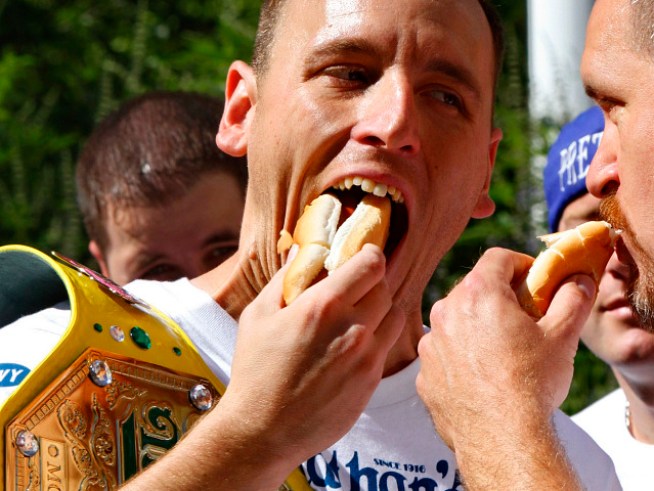 AP
World Champion hot dog-eater Joey Chestnut, left, poses with Bob Shoudt at the official weigh-in ceremony for the Nathan's Famous July 4 International Hot Dog-Eating Contest in New York, Friday July 2, 2010.
Feel like having a taco? How about a plate full of them in record time?
You'll have a chance to do that Saturday at the San Francisco Street Food Festival. But, unlike the tasty eats from the food carts, these tacos could come with a cash prize and a title to boast about.
Champion speed-eater Joey "Jaws" Chestnut is probably best known for shoveling dozens of hot dogs into his pie hole in just a few minutes flat but on Saturday, he'll be taking on tacos -- and anyone with a strong enough gut to go up against him.
Chestnut will take on teams of five randomly picked visitors to the festival in a taco-eating contest at 4 p.m.. It's part of his nationwide local food festival tour with (of course) Pepto-Bismol.
The winners will not only have bragging rights to the title but will also walk away with a "Pepto Cup" trophy," a year's supply of Pepto Bismol and $100 each.
Chestnut will reveal some his skills as a competitive eater while he's at the Pepto Bismol booth.
"I love food, and not surprisingly, I often suffer from stomach upsets when I overeat in general, let alone when I'm competing," says Chestnut. "As a competitive eater, I'm trained to avoid and alleviate stomach upsets, and you can bet I'll be packing my Pepto."