Starbucks Set to Introduce the Pour Over
Company plans another indy feature in road back to coffee dominance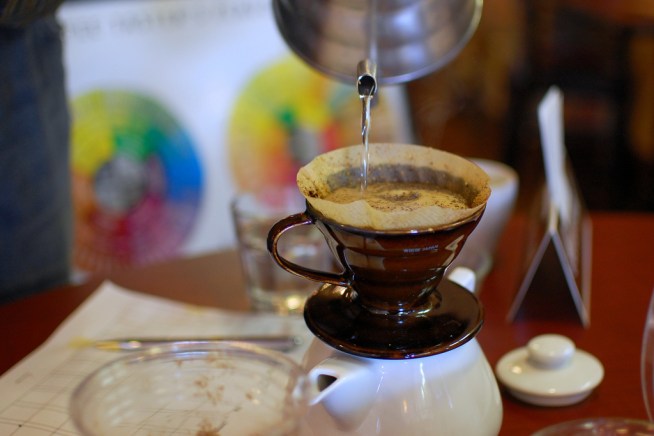 The pour over method in action. Photo: Tmoertel on Flickr
In Starbucks continuing quest to re-brand itself as a smaller, friendly coffee shop, the company is reaching back into the bag of indy coffee tricks.
The once struggling coffee chain has been shaking things up by trying radical ideas like raising prices and removing the Starbucks logo from some of it stores. The plan worked as Starbucks tripled its profits last quarter.
With so much success putting independent coffee stores out of business, why not rip off some of their ideas and close more mom and pop shops?
Reports are brewing that the mega coffee chain is about to do just that. Starbucks will reportedly introduce the "pour over" brew method to at least some of its stores as early as next month.
The technique of pouring hot water over fresh grinds into individual cups is something that has long been popular at independent Bay Area coffee shops, such as Blue Bottle. Starbucks "indy" stores have also been using the method since last year.
The pour over is popular with coffee aficionados because they say it produces a more flavorful, fresh cup of coffee than a large drip machine.
For Starbucks, the move is another swing back to its roots: a small time coffee shop destined to be smaller than Peet's. And the indy move has been profitable for the corporate coffee chain.
Maybe Starbucks should think about investing $20,000 in a halogen siphon filter next.