The Bay Area Officially Serves the Nation's Best Coffee
GQ names Ritual and Blue Bottle as two of the best places to get coffee in America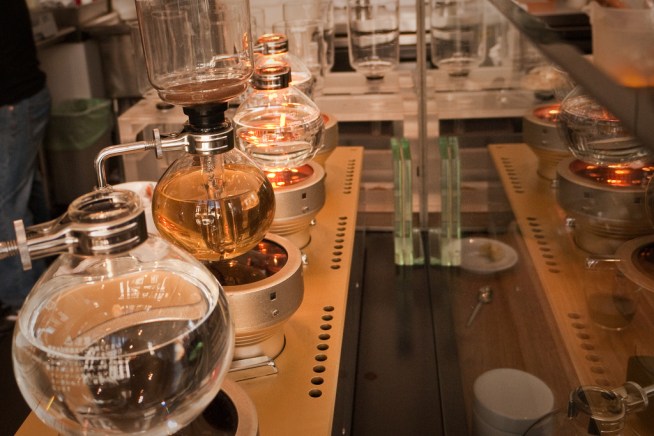 Blue Bottle's fancy siphon machine at work.
Seattle may have given the world Starbucks but the Bay Area offers caffeinated alternatives.
GQ named Blue Bottle Coffee and Ritual Coffee Roasters as two of the best places to get a cup of Joe in America. And the only Seattle entry to even make the list uses a 1930s Probat from San Francisco's own Cafe Trieste --who probably should have made the cut for its mean Africanos alone -- to roast beans.
The magazine's list of the top ten coffee houses were recognized for roasting their own beans (although New York's entry uses Intelligentsia coffee), packing more than average coffee into each latte and using "insanely expensive machines."
Both Blue Bottle and Ritual have everything checked off on the list. Blue Bottle made national headlines when it opened its San Francisco Mint Plaza operation with a $20,000 siphon machine. And both Ritual and Blue Bottle have perfected the 24-hour roast strategy.
Want to make Blue Bottle or Ritual at home? You better get your order in by Sunday because both local companies only roast coffee once a week and ship the beans out within 24 hours. If you don't meet their order deadline, you have to either pick up beans from one of their cafes or wait another week to have them delivered.
Locally Blue Bottle's high-end cafes and rich brews beat out Ritual in a vote for the Bay Area's best coffee. But lucky for us we don't have to choose, and we even have the secret behind Seattle's best as a third option.