NIMBYs Take to the Streets With "No Helipad" Propaganda
Wednesday, Jul 29, 2009 | Updated 7:01 AM PDT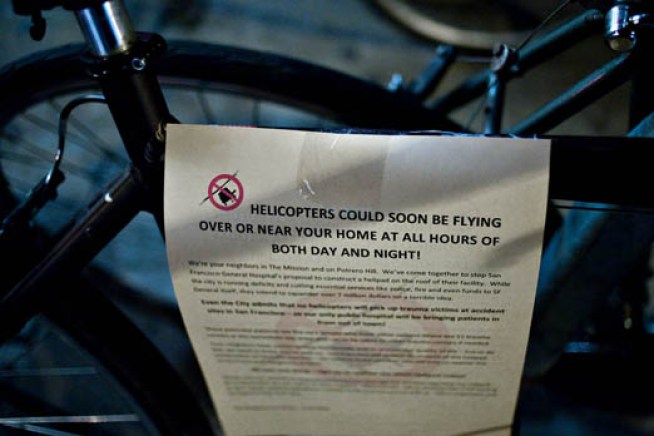 They've been at it for nearly a year and they ain't stopping now! The previously allocated funds may be gone, but that doesn't mean the city's plans for a helipad at San Francisco General Hospital are dead, too. Best way to tell? The "Stop the SF General Hospital Helipad" people are back at it, and this time with a little more photocopying power. See SF Citizen's recent run-in. "HELICOPTERS COULD SOON BE FLYING OVER OR NEAR YOUR HOME AT ALL HOURS OF BOTH DAY AND NIGHT!" Saving lives! The noisy horror! SF General may be the only Level 1 Trauma Center in the country without one, but that argument seems to fall flat when the pastoral Potrero quiet is at stake. Wonder how they coped with the Blue Angels?
· A San Francisco General Hospital Helipad Promise Made, Then Broken [SF Citizen] · Helipad to Finance Housing, Draw Ire of Nabe Anyway [Curbed SF]
· Shhhh! Mission Bay Opposes UCSF Helipad, Noise [Curbed SF]
[image courtesy SF Citizen]
For more stories from Curbed SF, go to sf.curbed.com.