Giants manager Bruce Bochy did not win Manager of the Year for the National League.
The award went to Davey Johnson of the Washington Nationals. It is the second time Johnson won the award. He also took it home in 1997 with the Orioles.
The MLB Network is airing the Baseball Writers' Association of America's choices of the best baseball had to offer in 2012 on four consecutive nights at 6 p.m. ET. The news that Bochy just missed the award (he made it to the final three). The announcement came out just after 3 p.m. California time.
Ballots were submitted at the end of the regular season, so Bochy's post-season prowess did not count.
Oakland A's manager Bob Melvin is also up for the award on the American League side. He is up against the Orioles' Buck Showalter and Robin Ventura of the White Sox.
Last night Mike Trout and Bryce Harper won Rookie of the Year honors.
To run down the rest of the week: Cy Young Awards are on Wednesday and the Most Valuable Player Awards are on Thursday. Buster Posey is still a favorite to take home that award.
Here are the finalists for all of this week's awards:
AL Manager of the Year Award
Bob Melvin, Athletics
Buck Showalter, Orioles
Robin Ventura, White Sox
NL Manager of the Year Award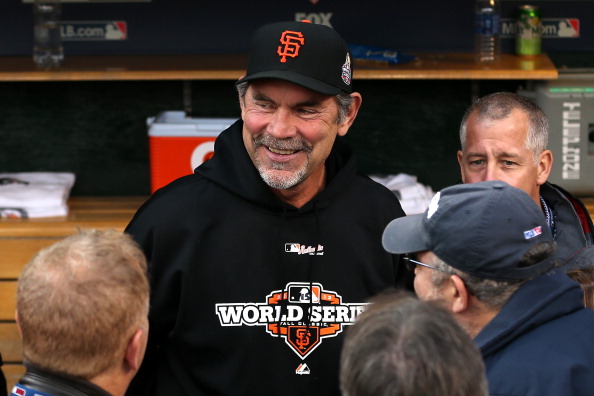 Dusty Baker, Reds
Bruce Bochy, Giants
Davey Johnson, Nationals
AL Cy Young Award
LHP David Price, Rays
RHP Justin Verlander, Tigers
RHP Jered Weaver, Angels
NL Cy Young Award
RHP R.A. Dickey, Mets
LHP Gio Gonzalez, Nationals
LHP Clayton Kershaw, Dodgers
AL Most Valuable Player Award
Adrian Beltre, Rangers
Miguel Cabrera, Tigers
Robinson Cano, Yankees
Josh Hamilton, Rangers
Mike Trout, Angels
NL Most Valuable Player Award
Ryan Braun, Brewers
Chase Headley, Padres
Andrew McCutchen, Pirates
Yadier Molina, Cardinals
Buster Posey, Giants