The trophy case at Buster Posey's house got a little more crowded on Thursday night as the Giants catcher was named National League MVP by the Baseball Writers Association of America.
Posey had a phenomenal years for the Giants in 2012, winning the batting title with a .336 average and slashing his way to .336/.408/.957.
The Giants catcher led the National League in OPS+ at 172, was named an All Star and helped the Giants cruise to a National League West title.
"It's tough to put into words," Posey said. "I think it's an accomplishment that's shared with the whole Giants organization. It starts up top with great ownership and a great front office putting a great team on the field. It's a great place to work and a great environment.
"I couldn't be more honored to have my name alongside the previous winners."
Giants GM Brian Sabean was among the first to congratuate Buster:
"This is a great achievement and I couldn't be happier for Buster. He is establishing himself as one of the premier athletes in baseball today. His leadership and ability to produce offensively and play solid defense behind the plate makes him one of the most exciting and valuable players in either league. I also want to congratulate our entire baseball organization, including Buster's teammates, our scouting and player development staff, our coaches and training staff for the role they all played in helping Buster earnthis special honor," Sabean said in a statement.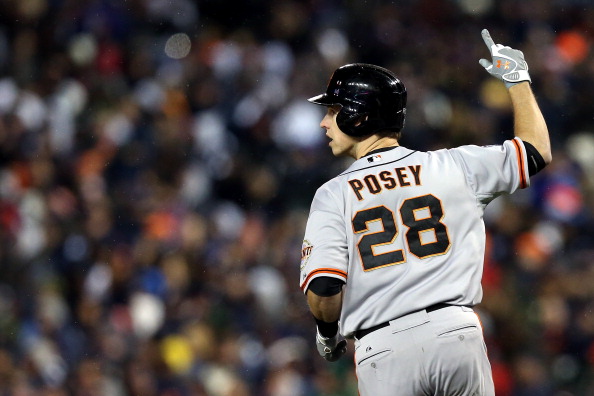 Posey picked up the Comeback Player of the Year as well, coming back from a gruesome injury in 2011 to dominate in 2012.
His second half was ridiculous, as he hit .385/.456/1.102 with 14 homers (24 on the year) and 60 RBI.
Posey received 27 of 32 first-place votes and is the 13th member of the Giants to win the NL MVP. He's the eighth catcher to win the award and the first winner since Johnny Bench.