SAN FRANCISCO — It took the Dodgers 31 innings to give up a run this season. Once Brandon Crawford tapped the plate in the fifth inning Thursday, the floodgates opened.
The Giants scored seven runs over a span of 15 batters in the middle of the game and cruised from there, taking their first meeting with the three-time reigning division champs, 12-6. Hunter Pence put the finishing touches on the win with an eighth-inning grand slam, the 16th of 17 Giants hits on a day they got off to a shaky start.
After a long pre-game introduction ceremony, Jake Peavy hardly touched the mound in the top of the first. He needed just four pitches, one of which induced a double play off Yasiel Puig's bat. The rest of the afternoon would be a grind.
Adrian Gonzalez led off the second with a double and scored three batters later on Enrique Hernandez's single. Peavy loaded the bases with one out but appeared to be out of the jam when Alex Wood hit a double-play ball right at Crawford. As the Giants walked back to the dugout, Dave Roberts came out to challenge. A two-minute, 29-second review revealed that Joe Panik's foot came inches off the bag before he received Crawford's throw. Because the "neighborhood play" is no longer allowed, the runner at second was ruled safe and the inning continued with a second run having scored.
Gonzalez did damage again in the third, driving a double off the outstretched glove of a leaping Angel Pagan to give the Dodgers a 3-0 lead. Peavy would allow one more run in the fifth and then give way to the bullpen.
The Dodgers did not allow a run while sweeping the Padres, and it wasn't until the bottom of the fifth that the Giants finally ended the streak. Crawford drew a leadoff walk from Wood and scored on a groundout by Denard Span three batters later. Joe Panik crushed an RBI triple and Buster Posey cut the deficit to one with a ringing double. The Giants would take the lead an inning later.
Wood was left around long enough to give up two singles. After a bunt by Ehire Adrianza, Pagan lined a single to right that made it 5-4. Panik drove Pagan in and took second when center fielder Joc Pederson airmailed his cutoff man. That cost the Dodgers right away, as Posey lined an RBI single to left.
Pederson, a Bay Area native, made amends in the eighth. He crushed a first-pitch fastball from Sergio Romo for a two-run homer, but the game wouldn't be close for long.
Three singles and a bunt single got the lineup going again in the eighth and Pence put the game out of reach by blasting a slider to left-center for his sixth career grand slam.
Starting pitching report: Peavy was charged with four earned on 10 hits. He threw 79 pitches in five innings, 50 of which were strikes. His day could have been much worse if not for a couple of big pitches in tight spots.
"You Gotta be Hungry," Giants Catcher Buster Posey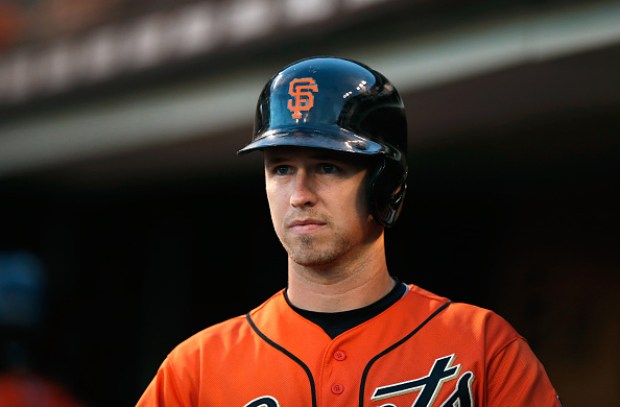 Bullpen report: Chris Heston's first relief appearance in two years was a crisp one. Heston needed just 10 pitches to get through a 1-2-3- top of the sixth.
At the plate: The Giants put down four bunts, accounting for two singles and a sacrifice that led to a two-run single. Ned Yost approves.
In the field: You would think a team managed by a former outfielder would know how to hit a cutoff man. Pederson and Scott Van Slyke both let a runner advance, and one of them scored.
Attendance: The Giants announced a crowd of 41,940. It was their 409th consecutive sellout, if you ignore many nights during the 2013 season.
Up next: After spending March rushing to get ready for Friday, Matt Cain will make his season debut. Cain will face Dodgers rookie Ross Stripling, a right-hander.