The San Francisco Giants found themselves in their fourth must win game of the post season Friday night in St. Louis, but found a way to win beating the Cardinals 5-0.
The team had pitcher Barry Zito on the hill against Cardinal's pitcher Lance Lynn.
Both pitchers have had shaky starts of late, but Zito easily won the battle of the starters. The Giants scored 4 in the 4th inning knocking Lynn out.
Zito went seven and two-thirds scoreless innings. When Bruce Bochy finally replaced him on the mound, his jog to the dugout was a triumph for both himself and his team.
CSN's Andrew Baggarly Tweeted, "Only Barry Zito can say if this was the game of his life. But thanks to him, the Giants still have theirs." Baggarly also noted that if the Giants run the table and make it to the World Series, Zito would likely be the pitcher of Game 1.
Zito also helped his team on offense, getting an RBI with a sacrifice bunt that got him safely to first base. It was his first career bunt single. "I'm known for my Arabian horse gallop, as Wilson calls it," Zito said about the hit after the game. "Just not that fast."
Before Friday's start, Zito was just 58-69 with a 4.47 ERA since signing a $126 million, seven-year deal with San Francisco prior to the 2007 season. He didn't even make the postseason roster when the team won it all.
All of that was forgotten following his gem-like performance in Missouri.
Fans took to Twitter hours before the start in a new kind of social media rallying. The #RallyZito movement took off early Friday and continued through the game. Hundreds if not thousands of Giants fans changed their avatar picture to an image of the left-hander. Some of the photos connected to the hashtag campaign were hilarious.
Reporters asked him if he was following what was going on Zito said, "I tried Twitter a few years ago and it was a devastating experience." (And he wasn't being funny).
The team went into Friday night knowing they had to win or game over.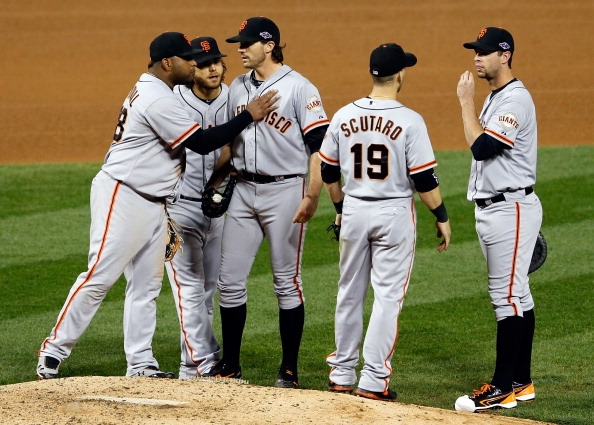 "Our backs are against the wall, we do have the confidence from what we accomplished in Cincinnati. that definitely gives you hope, which is a very powerful thing," Hunter Pence said.
Now the team will head to the airport for an overnight flight. The best bet for an arrival time at AT&T Park is around 3 a.m.
The best-of-seven series will be back in San Francisco with St. Louis leading 3-2. First pitch is 4:30 p.m.
Game 2 starters, St. Louis' Chris Carpenter and the Giants' Ryan Vogelsong are scheduled to pitch.
Carpenter was the team's "big-game pitcher" in their bid for a NL-best 19th pennant, but he gave up two runs in five innings last Monday and took the 7-1 loss.

Vogelsong was much stronger Monday. He only gave up one one run and four hits in seven innings.

"We have to put a better game plan together than the last time and execute it,'' Cardinal's manager Mike Matheny said after the game.