Remember what happened the last time Brian Wilson joined Chris Rose?
Yeah ... about that ...
It didn't happen this time, thankfully. And maybe that's because Kevin Millar was there.
But Wilson's appearance on MLB Network was still pretty hysterical, as the Giants closer hopped on to talk about his beard -- which ended in video of him without it(!), see below -- local San Francisco cuisine, "morning beard," small children with beards, the championship parade, politics and Shake Weights.
Oh yes, and the debut of his new cleats which he claim will have some orange, some black, metal shoelaces and two Orcas mating. (I'm just passing along the facts here, people.)
Now, just in case you didn't pause the video enough times to check out Wilson without facial hair, here you go: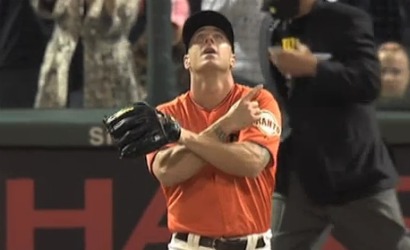 Just outstanding. And excellent, natch.