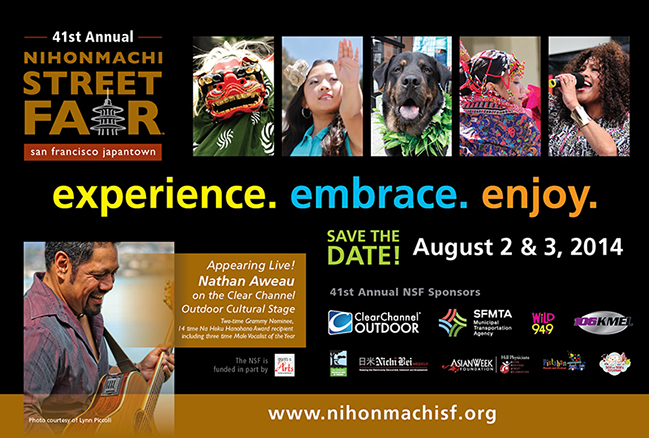 Back in 1973, the Nihonmachi Street Fair was hatched as an idea to provide leadership and mentorship opportunities for the youth of J-Town and to honor the Japanese-American cultural heritage. As the City's diversity and cultural awareness has grown, so has the street fair's focus. The Nihonmachi Street Fair considers itself the original "melting pot" of street fairs, with many aspects of Asian-Pacific American life—and San Francisco's cultural life—expressed through performance, tradition, art, music, food, and community outreach and service. The formula must work since the organizers estimated that over 30,000 guests participated in the 2013 event and they're still here to celebrate its forty first year!
As in years past, the Nihonmachi Street fair will once again be a showcase for local and uniquely San Francisco talent and entertainment that spans cultural and generational genres: Taiko, hip-hop, salsa, rock, jazz, and more on two anchor stages.

The Nihonmachi Street Fair proudly evolves to reflect the city it celebrates while staying true to its original idea: to use this event as a platform to mentor Asian-Pacific American youth and foster their leadership and communication skills through volunteerism and community service. The event is produced, staffed, and organized by youth volunteers, thus providing practical, hands-on experience in collaboration, entrepreneurship, and problem solving.

The Nihonmachi Street Fair is proud of its history in serving the community through education, service, and youth mentorship. As a 501(c) 3 non-profit organization, the Nihonmachi Street Fair receives a grant from the San Francisco Grants for the Arts Program but must rely on income generated through advertising revenue and sponsorship to underwrite fees, expenses, and logistical costs associated with producing this annual community celebration. We are excited to present at this year's event:

Children's World – an interactive area for families and their young children with Asian-inspired crafts and a focus on fun and games.

Asian Artisans – a wide variety of artistic talent from all over the Bay Area. From traditional raku ceramics, bonsai, Hawaiian inspired beef jerky and much more. The Asian Artisan area is an eclectic showcase of creativity.

Doggie World – for the 3rd time, a gathering place for the four-legged members of our community to join in on the fun. Local animal experts and adoption agencies will also be on hand to offer tips and information. Proceeds from the 3rd Annual Doggie World Parade will be donated to the San Francisco Friends of Animal Care & Control and local rescue organizations.
Entertainment – two anchor stages (Webster Street Stage & Clear Channel Outdoor Stage), showcasing Asian & Pacific American performing artists from the San Francisco Bay Area and beyond. The Nihonmachi Street Fair entertainment is the best ticket in town to see veteran and up and coming artists. Don't miss the traditional Chinese Lion Dance, Hawaiian halau (dance) groups, taiko performances, Japanese dance. R&B, Rap, Jazz, rock and more!
This year we are also welcoming long-time supporter and past Aloha by the Bay performer, 2 time Grammy nominee, Nathan Aweau. Nathan will be performing at the Clear Channel Outdoor Cultural Stage on Sunday, August 3rd at 4pm.

New Features for this year - Sounds of Thunder Car Show - featuring muscle cars & vintage trucks &1st Annual No. CA Adult Co-Ed Basketball Tournament

The Nihonmachi Street Fair is a community celebration that brings together the diverse APA communities and applauds the many nonprofit organizations that provide important programs and services to our families. It is a place where artists and musicians can showcase their talent and be a launch pad for up and coming individuals/groups.
We are an organization that sees the importance of our youth and provide an opportunity for them to volunteer, be a part of the planning process and become the leaders of tomorrow.
When: August 2-3, 2014
Where: San Francisco Japantown
Time: 11 AM to 6 PM
For more information, click here