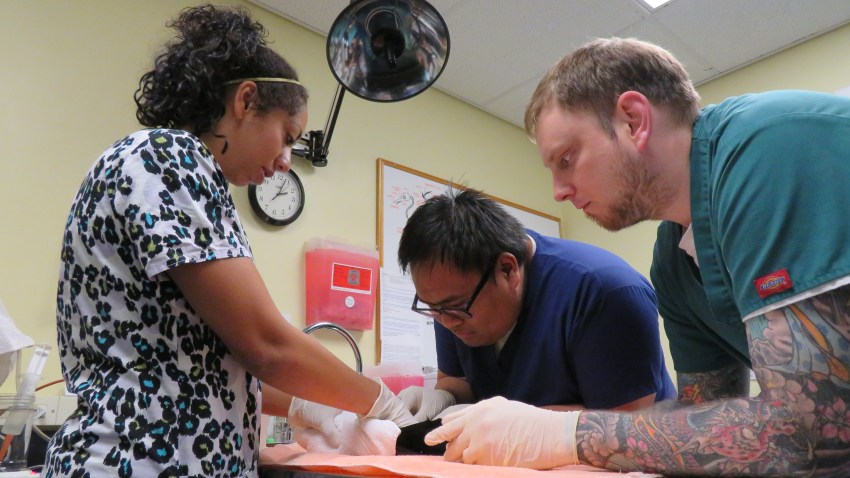 A local animal shelter saved a dying pelican's life by performing CPR. The Peninsula Humane Society and SPCA staff took quick action at the Wildlife Care Center in Burlingame on Tuesday, May 23, 2017 to save a pelican's life after it was found by an onlooker in a lethargic state at a beach in Pacifica.
The bird's body temperature was so low it wasn't even registering and his vital signs began to plummet dramatically.
Lead Wildlife Technician Greg Hassett said, "It was clear the pelican was dying, I decided to try one last effort to save his life by creating a make shift warming tent of clean towels with warm forced air and provided oxygen to the pelican while keeping his airway open."
With the pelican stretched out on a surgery table to open his airways, Hassett directed three people to assist with his plan including Wildlife Technician Mariah Horan and interns Jess Qwan and Amy Caufield. They all took turns massaging the pelican to improve circulation.
When the bird started to move and become livelier they knew their efforts were paying off. Hassett's quick thinking saved the pelican's life.
"Through my training, I learned about the importance of keeping airways open," said Hassett. "If we'd done nothing, the pelican surely would have perished and I'm glad our efforts saved his life."
The pelican is still recovering and currently is in stable condition. It will be monitored and remain in staff care until proven fit to return to the wild.