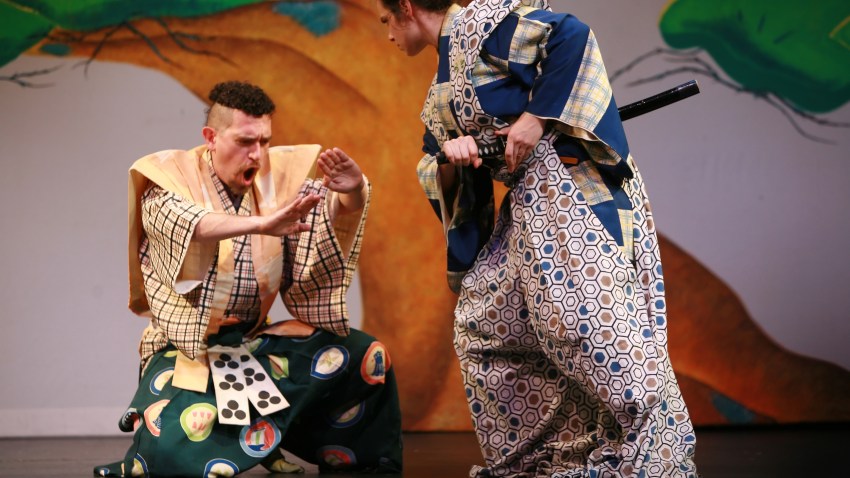 The Asian Art Museum has a stellar lineup of events this March, kicking the month off by creating a cardboard box world! Parents and kids are invited to play with cardboard boxes as they would at home. Both the event and admission are free. On March 14 and 28, actors from Theatre of Yugen will perform classical Japanese comic theater. On March 19 Bay Area ceramist Erik Scollon will discuss the ceramic work in the galleries and lead participants through the study of form. Also that evening, Tatsu Aoki will talk about his experience growing up in a family that booked and trained geisha in downtown Tokyo.
The museum is running a special promotion for its Twitter followers until February 18, 2015. Just show that you follow the museum (@asianartmuseum) on Twitter at the admissions desk, and they will let you in for FREE!
Where: Asian Art Museum, 200 Larkin St., San Francisco, CA 94102
When: Events are scheduled throughout the month of March, 2015
Cost: Admission is FREE is you follow @asianartmuseum on Twitter until February 18, 2015. Click here for ticket prices.
For a complete list of events and for general information, click here.
Highlight Events:
Sunday, March 1, 11 AM–2 PM
Samsung Hall, free admission courtesy of Target
Come build a cardboard world at the Asian Art Museum! The Box Project is a workshop for parents and kids developed by San Francisco artist, Eliza Gregory. Participants alter and play with cardboard boxes as they would at home, but on an unusually grand scale. Materials include reused cardboard donated by local businesses, which we recycle at the end of the day. Professional parenting educator Nancy Gapasin Gnass curates information about parenting and creativity for participants to take home, and is on hand to answer questions and provide an intellectual framework for the experience.
The Box Project celebrates acts of creativity that take place in the home by temporarily placing them in a museum context to catalyze a conversation about creativity, parenting and the gallery space as a creative hub. The project asks: Can we teach creativity? What does that look like? When is parenting itself fundamentally about creativity? How can we become better parents by acknowledging those times? And how can the museum support families in this endeavor?
Saturdays, March 14 and 28, Noon–4 PM
North Court, free with museum admission
Actors from the renowned ensemble Theatre of Yugen present an intriguing reinterpretation of Japanese Noh-Kyogen theater in this interactive demonstration. Classical kyogen plays are performed along with new contemporary counterparts, inspired by the plots and characters of classic plays. With updated language, context and style, the reinterpretations reflect the growth of traditional into the contemporary, the bridging of old and new.
For more than 35 years, Theatre of Yugen has consistently provided experiences in Noh-Kyogen theater, sharing appreciation for these forms with an increasingly diverse array of audiences. Whether classical or contemporary, serious or comedic, the performances strive to project the aesthetic quality of yugen (mysterious elegance), which gives the work a distinctive style. For more information, visit www.theatreofyugen.org.
Artists Drawing Club with Erik Scollon
Thursday, March 19, 6:30–9 PM
Meet at the information desk, free with museum admission
When a potter throws on the potter's wheel the form slowly emerges through a series of small adjustments, unlike drawing, which can quickly find the outline of a form. Bay Area ceramist Erik Scollon will lead you through a meditative drawing exercise, which is akin to the slow finding of form that is used by potters. Join the artist as he discusses ceramic works in the galleries and leads participants through the study of form.
Erik Scollon is an artist, educator and writer based in Oakland. His work has been seen in venues as diverse as art galleries, craft fairs, museum shows, design blogs and gay biker bars. He teaches at California College of the Arts and UC Berkeley, and is represented by Romer Young Gallery in San Francisco.
A Child Like Me: Laura Allen in Conversation with Tatsu Aoki
Thursday, March 19, 7–8:30 PM
Samsung Hall, free with museum admission
Think you know about geisha culture? Think again. Explore ideas expressed in Seduction: Japan's Floating World that we've been pondering about fantasy, constructed realities and the perpetuation of specific narratives about the pleasure quarter through the personal lens of Tatsu Aoki, who grew up in his grandmother's geisha house in Tokyo. The talk will introduce museum audiences to the unique perspective of an artist—male, in particular—with intimate knowledge of modern geisha culture, as well as the artistic training of geisha—an early influence on Tatsu's musical training. Tatsu appears in conversation with Laura Allen, Asian Art Museum curator of Japanese art.
Musician, filmmaker and professor Tatsu Aoki grew up in a family that booked and trained geisha in downtown Tokyo. Before the economic and social changes of the 1960s forced many family businesses to close, Aoki received geisha cultural training and became part of the family's performing crew at the age of four. Aoki performed in the early 70s during the Tokyo underground arts movement, joining the Japanese experimental music ensemble Gintenkai. After coming to the U.S. in 1977, Aoki studied experimental filmmaking at School of the Art Institute of Chicago, where he is a professor of film, video and new media.