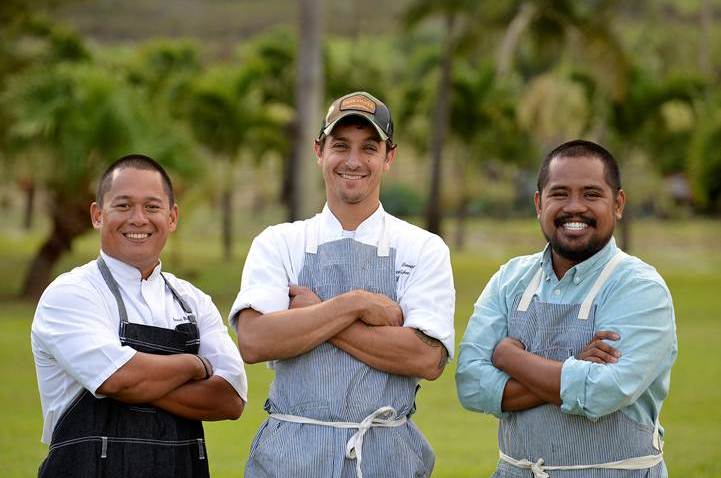 Be sure to check out NBC Bay Area's Asian Pacific America with Robert Handa this Sunday, February 8 at 5:30 a.m. on NBC Bay Area, channel 11 or cable channel 3 and at 6 p.m. on COZI TV, channel 186. This week's episode will feature a Lunar New Year inspired dish by Chef Isaac Bancaco of Ka'ana Kitchen, Maui!
Somen Noodle salad & Black Sesame dressing
Somen Noodles:
Somen Noodles, 4 bundles
Salted water
Ice bath
Olive oil, 2T
In a large pot of salted water, bring to a boil, add in somen noodles and stir to keep noodles separated. Cook till all rawness is cooked out, place in ice bath and chill. Remove from ice water and toss in a little olive oil. Reserve.
Black Sesame Dressing (yields one quart):
1 cup black sesame seeds
¼ cup tamari
1 cup rice vinegar
¼ cup honey
1 cup garlic oil
½ cup peanut butter (creamy)
10 cloves roasted garlic
2 TBSP sesame oil
Put all in blender and blend
Chilli oil:
Bring oil to slightly warm temperature and then add:
1.5 dried thai chilis
1.5 cup dark chili powder
1 piece of 3 inch ginger sliced
2 bottoms of leeks
Bring to slight simmer, steep and strain through cheesecloth
About Chef Isaac Bancaco:In the spirit harmonizing of flavor, locally grown ingredients & globally refined technique, Kaʻana Kitchen's Chef Isaac Bancaco pays tribute to his Maui roots (Hawaiian, Japanese, Chinese, Filipino).In 2014 Isaac was voted "Best Chef on Maui" and in 2011 Bancaco was honored as the only chef in TravelAge West's, "Future Faces of Hawaii Tourism" and "Top Young Chefs to Watch" by Hawaii Hospitality. As an active player in supporting Maui's farms and farmers, Bancaco displays a perfectly balanced menu of locally sourced components at the chic Andaz Maui at Wailea Resort. He now flaunts using 85% from the islands top growers, ranchers and fishermen. After securing his first cooking position at the acclaimed Blue Ginger under Ming Tsai, Bancaco competed as Tsai's sous chef on "Iron Chef America" defeating Bobby Flay in "Kitchen Stadium," his first defeat on home soil.Born and raised on Maui, Bancaco displays deep rooted pride in Hawaii's locally grown and produced goods giving diners a paralleled sense of place. www.maui.andaz.hyatt.com/