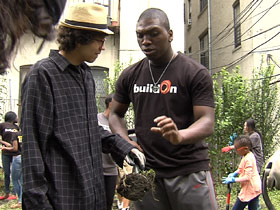 In anticipation of the holiday season, invite your colleagues to participate in the first ever Corporate Service Rally on Saturday November 1st. This is a great opportunity to continue support of buildOn through providing community service along side some of the student leaders.
Click here to choose from one of the four event happening in Oakland and San Francisco:
1st Saturday Market & Community Festival at Castlemont High School (Oakland)
The goals of the festival are to promote peace and community safety, help residents access critical information and resources, help residents connect with each other, improving community relations, improving community-police relations, and to increase interest in physical fitness and healthy eating, and supporting local entrepreneurs.
Ronald McDonald House (San Francisco)
Ronald McDonald Houses act as a place to stay for families with hospitalized children who are receiving treatment. Volunteers will help cook a delicious meal for the families staying at the House.
SF Food Bank (San Francisco)
When you volunteer at the Food Bank, you'll help sort and package the food we distribute to food pantries, children's snack programs and soup kitchens throughout San Francisco and Marin-- enough for more than 100,000 meals each day.
Visitacion Valley Greenway San Francisco (San Francisco)
The Visitacion Valley Greenway is composed of a linear series of six publicly owned parcels (each a block long), cutting a verdant swath through the heart of Visitacion Valley. Over a period of 16 it has been developed by the members of the Visitacion Valley Greenway Project in partnership with the San Francisco Recreation and Park Department (SFRPD) and the Trust for Public Land. In its entirety, the Greenway is an outdoor classroom and recreation area beautifying the landscape and uniting the diverse group and generations of Visitacion Valley.