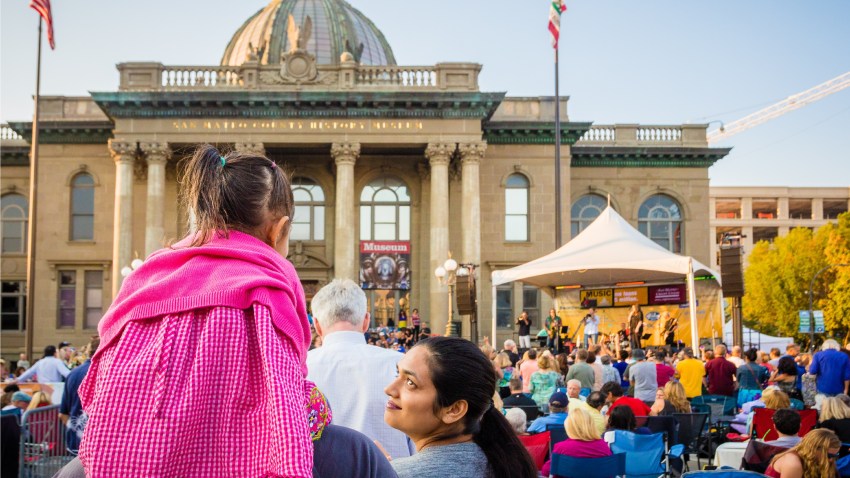 Redwood City invites one and all to enjoy free and fun events throughout the summer season.
A series of special events like Music in the Park, Movies on the Square and brand new addition, Pub in the Park. Events are free for individuals or families to enjoy!

Series Schedule:
Wednesdays: Music in the Park,
in Stafford Park*
July 11 The Gator Nation Band
July 18 Tortilla Soup
July 25 Kyle Rowland Blues Band
August 1 Rock the Heat
August 8 Sinister Dexter
August 15 Pacific Soul
August 22 Top Shelf
Thursdays: Movies on the Square
Starts at sunset - approx. 8:45pm, later in Aug.
July 12 Beauty and the Beast - Sing Along
July 19 Wonder
July 26 Wonder Woman
August 2 The Greatest Showman
August 9 Star Wars: The Last Jedi
August 16 Coco
August 23 The Lost Boys
August 30 Black Panther
Fridays: Music on the Square, 6pm - 8pm
July 13 Native Elements
July 20 Caravanserai
July 27 Journey Revisited
August 3 Foreverland
August 10 Entourage the Band
August 17 Whiskey Dawn
August 24 Neon Velvet
August 31 Pride & Joy
Saturdays: Pub in the Park, 11am - 4pm
In Mezes & Red Morton Parks*
July 21 27 Strings
Aug. 18 Edgewood Mountain Boys
Sept. 15 The Wildcat Mountain Ramblers
Sundays: Kidchella, 11am-1pm
July 22 Purple Fox and the Heebie Jeebies
Aug. 19 The Hipwaders
Sept. 9 Andy Z & The Andyland Band
Sundays: Sounds of the Shores, 5pm-7pm
In Marlin Park*
July 22 Cocktail Monkeys
August 19 The Rip-Tides
Sundays: Classical Series
July 22, 6pm Opera San Jose
Sept. 9, 5pm Bayshore Lyric Opera
More information for all of the events at: http://www.RedwoodCityEvents.com
Events are FREE and all happen downtown on Courthouse Square in Redwood City at 2200 Broadway, unless otherwise noted.
*Stafford Park is at: King St & Hopkins Ave, Redwood City, CA 94062
*Marlin Park is at: Neptune Dr. and Cringle Dr. Redwood City, CA 94065
*Sequoia High School Campus is at: 1201 Brewster Ave., Redwood City, CA 94062
*Mezes Park is at: Warren & Standish Streets, Redwood City, CA 94063
*Red Morton Park is at: 1120 Roosevelt Ave, Redwood City, CA 94061