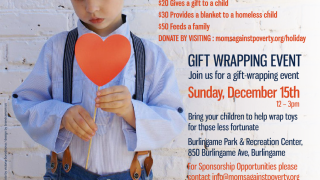 Bay Area based non profit Moms Against Poverty (MAP) announced its annual Burlingame Toy Drive & Gift Wrapping Event will expand, to include a month long online fundraising campaign in partnership with NBC Bay Area & EACH Foundation to provide more gifts and meals this holiday as reports suggest worsening food-insecurity in the region.
The online campaign will kick off on November 4th. To make it easy for people to donate, MAP is requesting participants make small donations online at www.momsagainstpoverty.org/holiday in the amount of $20 for a toy, $30 for a warm support blanket, and $50 to provide a nutritional meal. For those who prefer to donate a toy or gift card ($25 or $50 value requested), they can be dropped off at either of these two locations by December 6th; 851 Burlway Road, Suite 700 in Burlingame or 1337 Folsom Street in San Francisco.
All funds raised during the month long campaign will go to purchase items requested by low-income families at 20 participating schools and community centers in 4 counties. These items will be wrapped at MAP's Annual Gift Wrapping Event held on December 15th at the Burlingame Park and Recreation Center in partnership with the City of Burlingame and the Central Fire Department.
For more information, click here.