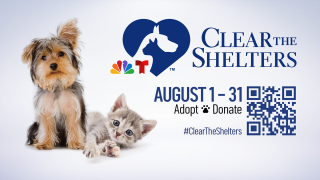 NBC Bay Area and Telemundo 48 are teaming up with Bay Area animal shelters and rescue organizations to find animals forever homes during Clear the Shelters – the nationwide pet adoption and donation campaign.
Each year, NBC Bay Area and Telemundo 48 partner with animal shelters and rescues in the Bay Area to host Clear the Shelters adoption events and raise funds and awareness for Bay Area shelter animals.
To help individuals and communities continue to practice health and safety measures, this year's month-long "Adopt & Donate" campaign will feature in-person and virtual pet adoptions and make it easy for people to donate online to participating shelters and rescues.
The adoption process has changed since the start of the pandemic and is different for each organization. Shelters and rescues encourage you to call ahead, make an appointment, and fill out any adoption paperwork that needs to be completed before arriving to the shelter.
More than 40 Bay Area shelters and rescues are registered to participate and registration remains open through August. Enter your zip code in the interactive map below to find a shelter or rescue near you.
HOW TO ADOPT & DONATE:
ONLINE: You can donate online to a participating shelter or rescue by visiting the Greater Good Charities donation site during the Clear the Shelters campaign Aug. 1-31.
IN PERSON: Bark-and-Meow Around the Block adoption event at Berkeley Humane (2700 Ninth Street, Berkeley) on Saturday, Aug. 27 from 10 a.m. to 4 p.m. More than 50 animals will be available for adoption at the in-person event, including a mobile adoption van and vaccination clinic. Adoptions are in-person, outdoors, and first-come, first served, so plan to arrive early!
IN PERSON: Pet Adoption Day at Oakland Zoo (9777 Golf Links Road) on Sunday, Aug. 21 from 10 a.m. to 2 p.m. Animals from East Bay SPCA will be available for adoption at the free event. Adoptions are in-person, outdoors, and first-come, first served. Families who adopt an animal will receive four tickets to return to the zoo on the day of their choice.
IN PERSON: San Jose Animal Care Center (2750 Monterey Rd. San José, CA 95111) adoption event on Saturday, Aug. 27 from 10 a.m. to 4 p.m. More than 100 cats and dogs will be available at the event.
This is the eighth consecutive year that NBC and Telemundo stations have spearheaded the pet adoption initiative to communities nationwide. Since 2015, NBCUniversal Local's Clear The Shelters campaign has helped more than half a million pets find permanent homes.
Organizations interested in participating in Clear the Shelters should complete the online registration form here. This form is required to ensure the organization is verified and appears on the interactive map of participating shelters. There is no deadline to register.
Check out some highlights below!
Warriors' player adopts a pair of kittens at San Francisco Animal Care and Control:
Adoptions at Humane Society Silicon Valley: