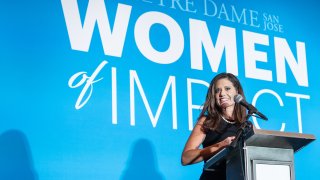 Join NBC Bay Area's Laura Garcia in recognizing Notre Dame San Jose's 2022 honorees at the Women of Impact event on October 14, 2022 ,11:30 am at Signia by Hilton San Jose
Click here to register for the in-person event.
The virtual event spotlights the role women have played in history, recognizes and celebrates those making significant contributions to society and showcases the regional and global impact of developing meaningful and integrated learning programs for young women.
When: October 14, 2022, 11:30am-1:30pm
Where: Signia by Hilton San Jose (formerly Fairmont Hotel)
170 S Market St, San Jose, CA 95113
Read more about this year's honorees below.
Dr. Mary J. Lomax-Ghirarduzzi
Dr. Mary J. Lomax-Ghirarduzzi is an academic and thought leader on race, leadership, and faith-informed social justice with almost three decades of higher education experience. She is also the author of Twice as Good: Leadership & Power for Women of Color and the inaugural vice president for diversity, equity, and inclusion (DEI) and full professor of communication at University of the Pacific. She served as dean of students and vice provost of diversity and community engagement at University of San Francisco (USF) and is also an affiliate faculty member at the Race and Equity Center at University of Southern California. She serves on the executive board of the Ignatian Solidarity Network.
Lori Castillo '92 Martinez
Growing up in San Jose, Lori Castillo '92 Martinez watched the rise of Silicon Valley right in front of her eyes, and was fortunate to attend a diverse girls school - Notre Dame. These two things set her on a path to a career in technology from an early age. "I was at an all-girls high school, and it starts in places like that. For me, technology wasn't something to shy away from, it was something to lean into," shared Lori. "I joined the workforce thinking women ruled the world." What followed was a global career with some of the biggest names in technology including Intel, McKesson, Verisign and VMware. Currently, she serves as executive vice president and chief equality officer at Salesforce where she leads global equality efforts, including equality strategy and programs. Previously, Lori served as the head of global employee relations and equality at Salesforce — a role uniquely designed as a way to accelerate and integrate people and equality initiatives at Salesforce.