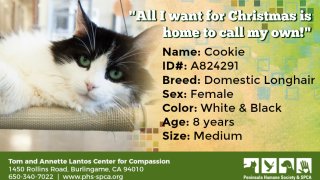 The Peninsula Humane Society & SPCA's Pet of the Week is Cookie.
Four cups of astonishingly beautiful floof, two tablespoons of sumptuous green eyes, a teaspoon of a pink nose, and a dash of sass is the recipe for the purrfect cat who just happens to have the name Cookie. This 8 year spayed female white and black cat possesses the softest and fluffiest fur imaginable. Cookie has just about everything going for her….she's drop dead gorgeous, playful, outgoing and spirited. The one thing Cookie doesn't have is a home to call her own. And this holiday season, that's at the top of her list to Santa. Cookie has lived with other cats before and she would do best in an adult only home. Looking for a cookie recipe to knock your socks off? Ask for Cookie ID# A824291.
For more information, click here.
WHEN: Weekdays 11AM-7PM, Weekends 11AM-6PM
WHERE: 1450 Rollins Road, Burlingame