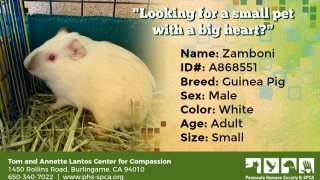 The Peninsula Humane Society & SPCA's Pet of the Week is Zamboni.
With his dazzling white fur, Zamboni is a stunner. This adult male guinea pig is on the shy side, but once he warms up, he's a total sweetheart. His albino coloring and pale pink eyes give him an exceptionally unique appearance. Zamboni likes to have conversations in that charming guinea pig soft squeal. He loves to nibble on hay, fresh fruits and vegetables and is especially fond of persimmons. Looking for a small pet with a big heart? Ask for Zamboni ID# A868551.
For more information, click here.
WHEN: Weekdays 11AM-7PM, Weekends 11AM-6PM
WHERE: 1450 Rollins Road, Burlingame