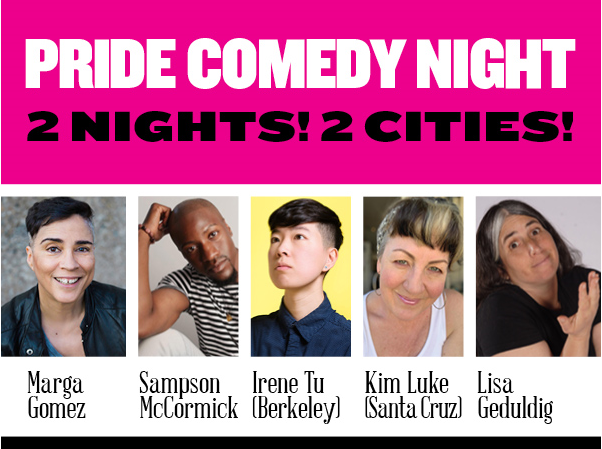 The producer of San Francisco's acclaimed annual Kung Pao Kosher Comedy™ (Jewish comedy on Christmas in a Chinese Restaurant) and numerous other Bay Area comedy shows presents Pride Comedy Night, a two-night, two-city LGBT comedy fest at Kuumbwa Jazz Center in Santa Cruz on Saturday, June 22 at 8pm and Freight & Salvage in Berkeley on Sunday, June 23 at 7pm.
Comedy producer and comedian, Lisa Geduldig, and friends return to the intimate 200-seat Kuumbwa Jazz Center after a seven-year hiatus and to Freight & Salvage after testing the comedy waters there last summer.
Pride Comedy Night will feature a very funny, diverse, eclectic array of Bay Area, LA and Santa Cruz-based LGBT comedians who span a few generations of comedy and have been performing for between 10 and 30 years. This multicultural (Latina, African American, Asian American, Jewish) line up consists of Marga Gomez, Sampson McCormick, Irene Tu (Berkeley only), Kim Luke (Santa Cruz only) and Lisa Geduldig.
To purchase tickets to the Berkeley show, please click here.
To purchase tickets to the Santa Cruz show, please click here.
WHEN/WHERE:
Saturday, June 22, 8pm: Kuumbwa Jazz Center, 320-2 Cedar Street, Santa Cruz 95060
Sunday, June 23, 7pm: Freight & Salvage, 2020 Addison Street, Berkeley 94704