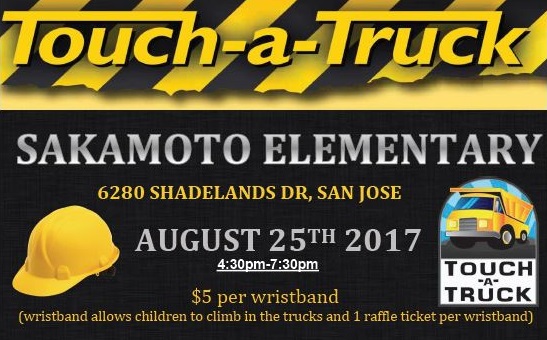 San Jose's Sakamoto Elementay School will be hosting a "Touch-a-Truck" fundraiser on August 25 to raise money for the 6th grade class's science camp at Walden West. The event, which will take place at the school, will include several kinds of work trucks, first response vehicles, military vehicles, classic cars, and more!
Additionally, facepainting and other activities will also be taking place. San Jose Sharks mascot Sharkie and San Francisco 49ers mascot Sourdough Sam are also scheduled to make appearances!

$5 gets you a wristband that can be used for your child to climb in the trucks and includes one raffle ticket for a drawing with a grand prize of 4 Gilroy Gardens tickets. Every adult and child needs a wristband of their own to attend the event.
Where: Sakamoto Elementary - 6280 Shadelands Dr, San Jose
When: Friday, August 25 - 4:30PM-7:30PM