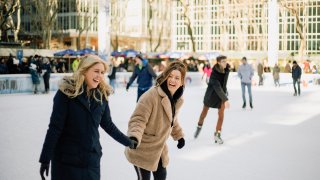 The Winter Ice Rink Downtown Sunnyvale makes its debut this year bringing a season of outdoor skating and holiday festivities to downtown Sunnyvale starting Friday, November 22.
Located in the heart of downtown, beneath historic Redwood trees. The Winter Ice Rink will kick off its inaugural season with an Opening Ceremony that's not to be missed! Throughout the season there will be something for everyone in the community to enjoy from Learn to Curl sessions, Rock n Roll Skate Nights, Robots on Ice, Food Truck nights and more!
Whether you want to take your little ones for a lap around the rink, share a winter afternoon date, start a holiday tradition with friends and family, or host a private or corporate event, The Winter Ice Rink will help you connect with your community and celebrate the holiday season in a magical way.
For tickets and more information, click here. 
WHEN: November 22, 2019 - January 20, 2020
WHERE: 250 S. Murphy Avenue Sunnyvale, CA