While celebrities amass millions of fans all over the world, sometimes it's a dog that makes them feel happy like nobody else can.
Like millions of other pet owners in the United States, some stars opt to adopt their furry friends from animal shelters or rescue groups.
Bradley Cooper saved his from pup from being put down, for example. Some celebrity rescue pets gain a fan base of their own — Amanda Seyfried's partner in crime has thousands of followers on Twitter.
Here are some examples of stars who saved a pup from a shelter.
Amanda Seyfried
Amanda Seyfried has talked about her rescue dog Finn on numerous talk shows and posted photos of the Australian Shepherd on social media as well. Whether its putting items on his head or dressing him up in various costumes, the actress and her sidekick have a lot of fun together, she said on "The Tonight Show." The "Ted 2" star's pooch also has his own Twitter account with more than 13,000 followers.
Jon Hamm
Actor Jon Hamm adopted his dog Cora from a Los Angeles area animal shelter where he also volunteers, according to Animal Fair. The "Mad Men" star told the publication that when he went to the Much Love Animal Rescue with his longtime girlfriend Jennifer Westfeldt, the couple "saw her and fell in love."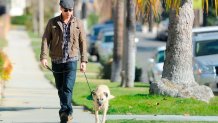 Zooey Deschanel
Zooey Deschanel shared the story of adopting pups Zelda and Dot from the Los Angeles-based Bill Foundation on "The Ellen Degeneres Show" in 2013. The nonprofit told the "New Girl" star that if she adopted one of the female pups, she would have to adopt her sister as well. She also shared a cute picture of the pair on Instagram, as seen below.
George Clooney
George Clooney said in an interview with Esquire that he came across his black cocker spaniel mix named Einstein while watching a video online in 2010. It said the dog had been living in a "filthy, crowded" shelter that would have put him down without intervention. The dog ended up living at a foster home through the Los Angeles area breed rescue Camp Cocker.
The actor told Esquire that when he called the group and asked for the dog, they told him the dog must also want to live him. Before meeting Einstein for the first time, Clooney wiped meatballs on his shoes to make sure the dog took a liking to him. "Forever, now, he just thinks of me as the guy with the meatball feet," Clooney told Esquire. "He loves me. I can do no wrong. He follows me everywhere."
Bradley Cooper
Bradley Cooper came just in time for his German shorthaired pointer Samson, he told People. The "Hangover" star found the dog on a website for a kill shelter only three weeks before the dog would have been euthanized. He also has a chow-retriever mix named Charlotte he found during an adoption drive in Santa Monica, he told the publication. Unfortunately the dog died in 2011, according to The New York Times.
Oprah
Oprah met her dog Sadie, a blond cocker spaniel, while shooting a spread for her publication O magazine at PAWS Chicago, according to her website. "The dog chose me," Oprah said. "There were like six or seven dogs, and she was on my shoulder, nuzzling." But Sadie isn't the only furry friend the media mogul has had; she said in an Oprah.com video that she has owned about 21 pets in her adult life.
Jane Lynch
"Hollywood Game Night" host Jane Lynch has an Australian koolie mix rescue dog named Francis, she told the website Cesars Way. "When I met my dog at an adoption fair, I said 'Olivia' and she gave me this look that said, 'Yeah, whatever lady, just get me out of here!'" Lynch said. The actress has also participated in PETA pet public service announcements.
Jake Gyllenhaal
Jake Gyllenhaal is an enthusiast of both animals and the Harper Lee novel "How to Kill a Mockingbird." The actor has a rescued German Shepherd named Atticus Finch and a puggle named Boo Radley, according to The L.A. Times. They are named after the main characters of the book. Gyllenhaal told Movies Online that after his film "Brokeback Mountain," he felt ready to own a dog.