Comedian Kathy Griffin has apologized in a Twitter video after receiving backlash on social media Tuesday about photographs of her holding a bloody, decapitated head resembling President Donald Trump.
"I'm a comic. I crossed the line. I moved the line, then I crossed it. I went way too far," Griffin said.
"The image is too disturbing," she added. "I understand how it offends people. It wasn't funny."

I am sorry. I went too far. I was wrong. pic.twitter.com/LBKvqf9xFB

— Kathy Griffin (@kathygriffin) May 30, 2017
Griffin took down the images from her Twitter account and said she asked the photographer to also take down images.
Griffin had posed for the shot during a photo session with photographer Tyler Shields, known for "edgy, shocking pics," according to TMZ.
Five Viral Moments From Trump's Trip Abroad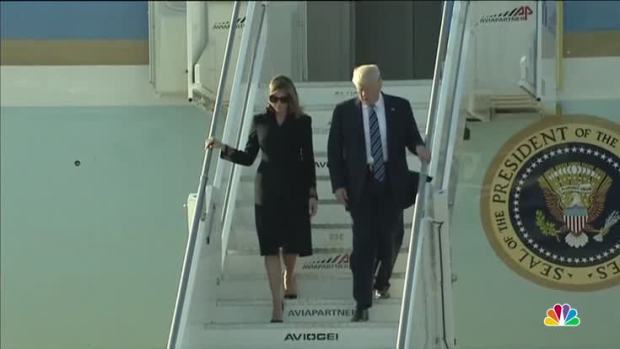 President Trump slammed Griffin on Twitter Wednesday morning, writing that she "should be ashamed of herself" and that his son Barron was "having a hard time with this."
Kathy Griffin should be ashamed of herself. My children, especially my 11 year old son, Barron, are having a hard time with this. Sick!

— Donald J. Trump (@realDonaldTrump) May 31, 2017
His wife Melania Trump said hours later that the photo was "simply wrong."
"As a mother, a wife, and a human being, that photo is very disturbing," she said in a statement to NBC News. "When you consider some of the atrocities happening in the world today, a photo opportunity like this is simply wrong and makes you wonder about the mental health of the person who did it."

Trump's son, Donald Trump Jr., was the first Trump family member to rebuke Griffin, saying the picture was "disgusting but not surprising." Without specifically mentioning the Griffin image, the official Twitter account of the Secret Service tweeted they were "on it" in response to calls to investigate the comedian.
Disgusting but not surprising. This is the left today. They consider this acceptable. Imagine a conservative did this to Obama as POTUS? https://t.co/QdghcbIjS7

— Donald Trump Jr. (@DonaldJTrumpJr) May 30, 2017
On it! @SecretService has a robust protective intelligence division that monitors open source reporting & social media to evaluate threats

— U.S. Secret Service (@SecretService) May 30, 2017
Chelsea Clinton was also among those who slammed the image.
This is vile and wrong. It is never funny to joke about killing a president. https://t.co/zIiuKoMyFw

— Chelsea Clinton (@ChelseaClinton) May 30, 2017
The question was also raised of whether Griffin's photos would affect the comic's relationship with CNN; she has co-hosted the news network's New Year's Eve coverage with Anderson Cooper for years.
Cooper tweeted that he was "appalled" by Griffin's photo shoot, calling it "clearly disgusting and completely inappropriate."
For the record, I am appalled by the photo shoot Kathy Griffin took part in. It is clearly disgusting and completely inappropriate.

— Anderson Cooper (@andersoncooper) May 31, 2017
In a statement on Tuesday CNN said it was "evaluating" New Year's Eve and has not made any decisions yet. By Wednesday afternoon, CNN said it had cut ties with Griffin.
CNN has terminated our agreement with Kathy Griffin to appear on our New Year's Eve program.

— CNN Communications (@CNNPR) May 31, 2017
CNN spox on Griffin: "We found what she did disgusting and offensive. We are pleased to see she has apologized"; NYE special being evaluated pic.twitter.com/eCWbEz5v7G

— Oliver Darcy (@oliverdarcy) May 31, 2017
Before the apology, Griffin appeared in a behind-the-scenes video and noted that "Tyler and I aren't afraid to do images that make noise."
"We have to move to Mexico today because we're gonna go to prison - federal prison," she joked. "Because we're not surviving this."