An air of finality looms over the upcoming "Star Wars: Episode VIII – The Last Jedi" – and not just in the title.

The installment marks the farewell flesh-and-blood performance of Carrie Fisher as Leia Organa, who first flickered onto screens 40 years ago as a hologram beamed by a droid.

The film, opening Friday, nearly a year after Fisher's death at age 60, marks an opportunity to celebrate the legacy of an actress who gave life to one of moviedom's most iconic characters. The movie, dedicated to Fisher, doesn't represent a goodbye as much as a chance to say thank you.

The most powerful force behind "Star Wars," particularly for those of us old enough to recall the opening of the original chapter, is memory. That's been the strength and occasional bane of a series rooted its past as much as its future.

'Late Night': Kerry Played High School Hockey With Mueller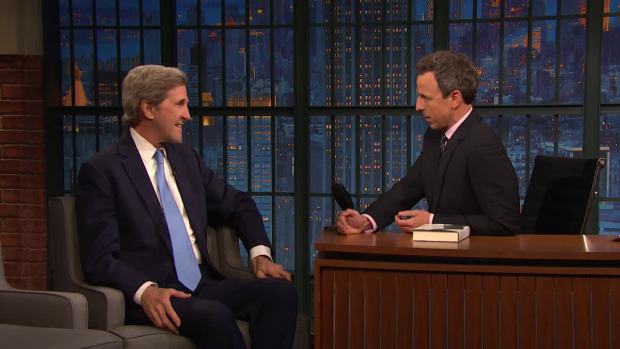 We all know the story that started long, long ago: George Lucas's original 1977-1983 trilogy blasted into pop culture history. His 1999-2005 prequel trio landed with a thud.
Disney bought the franchise for $4 billion in 2012. The studio scored with 2015's satisfyingly retro "The Force Awakens" and last year's excellent one-off "Rogue One," which ended on a note of hope, sounded by a back-to-the-future rendering of Princess Leia.
Judging from early reviews, first time "Star Wars" director Rian Johnson largely succeeded in merging the best of the old and the new with "The Last Jedi."
While more one-offs are in the works, including a young Han Solo flick directed by Ron Howard, the final film in the current trilogy is two years away.
Barring any change of mind on using digital recreations or old footage, "Episode IX" won't include Fisher.
Over the last four decades, we've watched Fisher's Leia go from a teenage princess asking Obi Wan Kenobi for help to kicking stormtrooper butt to leading the Resistance as a general.
'Tonight': Michael Angarano Reacts to 'This Is Us' Brother Theories
We've also seen Leia's spirit represented in generations of movie heroines from Sarah Connor to Hermione Granger to Wonder Woman and Jedi-hopeful Rey, stars of what are likely to end up as the two biggest action movies to debut in 2017.

Rey is poised to be trained by Luke Skywalker, Leia's brother and presumably the "Last Jedi" of the film's title. The return of Mark Hamill, teased at the end of "The Force Awakens," offers a major draw.
But the biggest cheers filling movie theaters around the world, no doubt, will be reserved for Fisher.
Luke's mentor, Yoda, once said: "Death is a natural part of life. Rejoice for those around you who transform into the Force."

The sage's words are worth remembering during "The Last Jedi" and the "Star Wars" adventures to come – all riding the enduring wave of hope Fisher and her greatest cinematic creation, Leia, embodied.
Hester is Director of News Products and Projects at the City University of New York Graduate School of Journalism. He is also the author of "Raising a Beatle Baby: How John, Paul, George and Ringo Helped us Come Together as a Family." Follow him on Twitter.
'Tonight': Strahan Challenges Fallon to 25 Push-Ups for Veterans