There's no place like home — even for a pair of shoes.
A pair of the iconic ruby slippers from the 1939 "Wizard of Oz" film were recovered in a sting operation after a man approached the shoes' insurer and said he could help get them back, the FBI said Tuesday.
The shoes are one of several pairs worn by Judy Garland, who played Dorothy Gale in the classic film. This pair was on loan to the Judy Garland Museum in the late actress' hometown of Grand Rapids, Minnesota when they were taken in 2005 by someone who climbed through a window and broke into a small display case. The shoes were insured for $1 million.
The FBI said a man approached the insurer in summer 2017 and said he could help get them back. Grand Rapids police asked for the FBI's help and after a nearly year-long investigation, the slippers were recovered in July during a sting operation in Minneapolis.
Donor Offers Million Dollar Reward for Ruby 'Oz' Slippers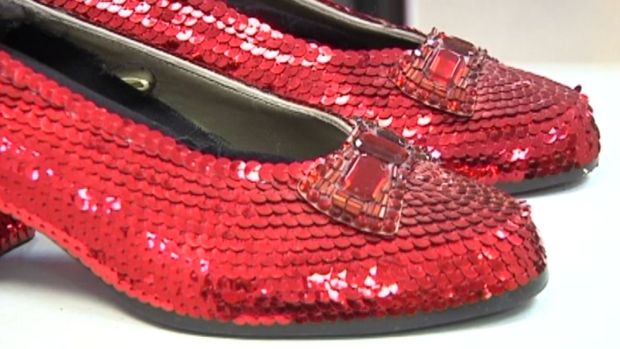 The FBI said no one has yet been arrested or charged in the case, but they have "multiple suspects" and continue to investigate. As they unveiled the recovered slippers at a news conference Tuesday, they asked anyone with information about the theft to contact them.
"We're not done. We have a lot of work to do," Christopher Myers, the U.S. attorney for North Dakota, said.
Myers said he would handle any prosecution. The North Dakota link to the case wasn't evident and authorities declined to explain it.
The stolen slippers' authenticity was verified by comparing them with the pair at the Smithsonian's Museum of American History in Washington.
The ruby slippers are key in the 1939 movie. After mysteriously landing in the colorful Land of Oz after a tornado hit her farm in Kansas, Garland's character, Dorothy, has to click the heels of her slippers three times and repeat "there's no place like home" to return.
"They're the symbol of the longing for home — a symbol of a sense of place," John Kelsch, the Grand Rapids museum's executive director, told the Star Tribune in 2016. "Of any artifact from the movie, they touch that emotion in people."
'Late Night': Short Says Meyers Looks Like O'Rourke-Cruz Love Child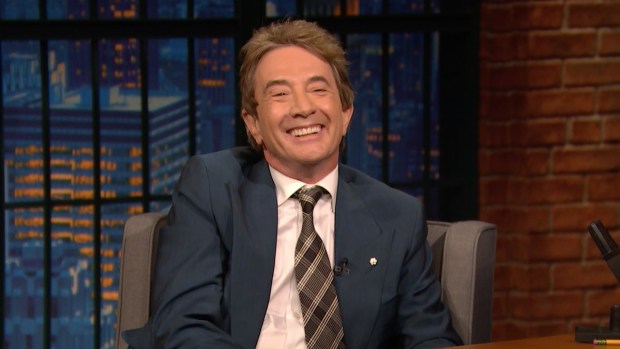 Rhys Thomas, author of "The Ruby Slippers of Oz," called the slippers "the Holy Grail of Hollywood memorabilia."
"They are maybe the most iconic cinematic prop or costume in movie history, and in fact, in cultural history," Thomas said. "They are a cultural icon."
Thomas estimated that this particular pair could be worth between $2 million to $7 million. He said it's not clear in which scenes they were used, but he was "99 percent" sure that they appeared in the film.
Thomas said the slippers then went unseen for 30 years until Shaw, acting as a middleman, bought them for someone who intended to sell them to the late actress Debbie Reynolds, but Shaw ended up keeping them and often loaned them for exhibits.
In 2015, an anonymous donor in Arizona even offered a $1,000,000 reward for the return of the slippers. But they remained missing for nearly three more years.
The magical shoes were both a source of conflict and comfort in the famous film, as they led to a battle between Dorothy and the Wicked Witch of the West before helping Dorothy find her way back home to Kansas.
'Tonight': #TurkeyDayTradition Hashtags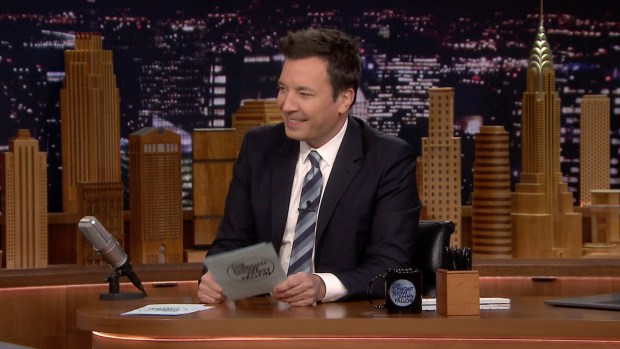 The National Museum of American History is home to one of the other pairs of slippers. They were taken off display last April for conservation work after a Kickstarter campaign helped the museum raise more than $300,000 for their restoration. They are expected to go back on display in October.
According to the Smithsonian, up to 10 pairs of the slippers are thought to have been made for the movie. Five of them, including the National Museum of American History's pair and the stolen pair, are still known to be in existence.
The shoes are made from about a dozen different materials, including wood pulp, silk thread, gelatin, plastic and glass. Most of the ruby color comes from sequins but the bows of the shoes contain red glass beads.
The genre-busting Wizard of Oz — presented in black and white, and color — was a box office smash and was nominated for multiple Academy Awards, with wins for Best Song and Best Original Score.
Garland, who was born Frances Gumm, lived in Grand Rapids, about 200 miles (320 kilometers) north of Minneapolis, until she was 4, when her family moved to Los Angeles. She died of a barbiturate overdose in 1969.
The Judy Garland Museum , which opened in 1975 in the house where she lived, says it has the world's largest collection of Garland and Wizard of Oz memorabilia.
'Tonight': Steve Carell Was Nervous Meeting Kelly Clarkson