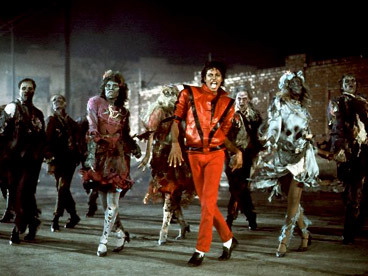 CAUSE THIS IS THRILLER: Dance to the iconic Halloween jam in Oakland this Saturday and you could be making history. Moonwalk at 5:30 p.m. to help break the world record for Largest Simultaneous Dance to Michael Jackson's Thriller. Learn the dance from the simple tutorials and register when you click here.
EMBRACE THE BASS: The incredibly talented Meshell Ndegeocello comes to Amoeba Music in San Francisco this Saturday at 7p.m. Her latest album, Devil's Halo, harkens back to the way music used to be made - there will be no autotune in this house. If you can't make it to Amoeba in time, catch her at The Independent later that night at 9 p.m.
THE BRIDGE BENEFITS EVERYONE: This Saturday enjoy the 23rd annual Bridge School Benefit Concert. Co-founded by Neil Diamond's wife Pegi, the bridge school serves children with severe impairments. This year's concert will feature Jimmy Buffet, Sheryl Crow, supergroup Monsters of Folk and more. [SF Weekly]

WALKER, SF POET: Palm of Her Hand presents a conversation with Alice Walker, acclaimed poet and author of works including as The Color Purple. In this benefit for the Margaret Okari Children's Foundation, Walker will be reading from her upcoming book, Hard Times Require Furious Dancing.

BYOQ: Bring your own beer? Not nearly as fun as Bring Your Own Queer, the music, art and dance festival in Golden Gate Park. The event runs from 12 p.m.-5 p.m. on Saturday and features Honey Sound System, Azure, and the Cartographers, just to name a few.