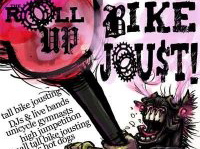 KNIGHTS ON BICYCLES: The high drama of medieval sport comes modern Oakland in the Bike Jousting Tournament. The Roll Up Bazaar hosts this epic event, along with unicycle gymnasts, candy strip girls, knockout punch and much more. Come in costume and ready to battle at 8 p.m.
DIA DE LOS MUERTOS: Tina Tamale hosts Days of the Dead, two fun days of culture, arts, food, and family celebrating our ancestors and loved ones who have passed away. Tomorrow the festivities begin at 11a.m. at La Borinquena Restaurant & Specialty Shop in Oakland.
TIC TAC POE: 'Tis the season for ghosts, ghouls and all things macabre, what better way to celebrate than with the iconic heart of darkness, Edgar Allen Poe? In honor of his 200th birthday, bassist, bandleader, and curator Lisa Mezzacappa presents the Hallow's Eve-Eve Poe Party at the Poppy. Enjoy music, film and readings tonight at 7:30 p.m.

DID YOU SEE SAW?: Even if you haven't caught a single one of the popular and disturbing movies, you can still get down at Saw VIII Halloween Masquerade Extravaganza at the Blue Macaw. Personal Touch & DJ Mind Motion present the 8th annual mega party, which starts at 9pm. Buy tickets here.

JINKIES, A HAUNTED HOUSE!: Play Daphne, Shaggy, or Scooby Doo tonight and walk right into a creepy house without hesitation. The house at 6th and Irving, formerly known as the Yes We Can house, will be holding a Haunted House. Located on the N Judah line, the scaring commences 7 p.m. to 10 p.m. for ages 10 and up.