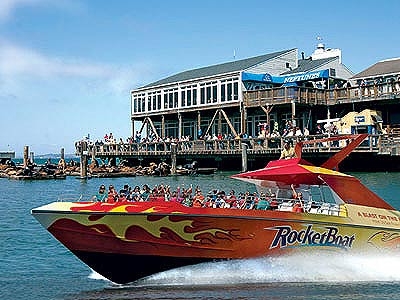 One if by land and two if by sea! Today you can score a fresh take on San Francisco by putting yourself into a really, really fast boat or in a really, really tall bus...
Sightseeing World has a double-decker, night-side bus tour that may refresh the stories you tell tourists about how gorgeous the City really is. Most every evening, at 6 or 7 p.m., you can be taken through North Beach, Chinatown, the Embarcadero and the Financial District. What? No Tenderloin??
Click here for more information and ticketing options.
If you're more into having the wind whip through your hair, then Bay-based touring is for you. They call it Rocket Boat for a reason.
Mid-morning and mid-afternoon departures are lined up at Pier 39. You and your guests get to see the City from more of a nautical sensibility. Cruise the skyline at low and high speeds for $20-24 and a 30-minute tour.