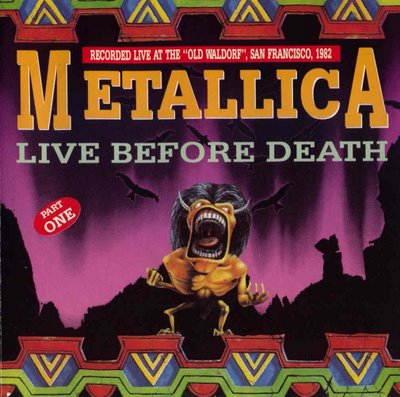 In a word: Metallica. In more words: a Metallica-dedicated exhibit at the Diego, starting tonight (5-8p.m.).
The mulitmedia, multi-artist homage begins tonight, with Nazi Botani bringing the musical ambience.
From SanFrancisco.com: 'Metallica Live at the Diego! is the group exhibition of work by Dustin Ellingboe, Maciej Makalowski, Walt Ohnnesserioge-Fick, Andrew Lennox, and Evan DeSpelder. Opening night will feature the seductive lullabies of Nazi Botani and a host of multimedia experimentation sure to leave you quaking in your boots."
---------------------
"Animals" is a novel set in the future, by about 100 years. Don LePan has painted a dystopic future for us and our food supply.
Now we haven't read the tome yet (plan to, though), but if you see the blurb you can't help read between the lines: cannibalism.
But you can ask him yourself, tonight at Book Plaza at the Ferry Plaza, beginning at 6p.m.