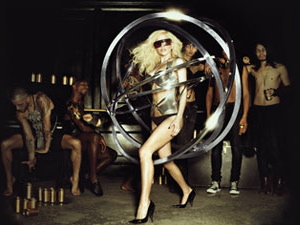 IT'S MOMMY'S TURN: Sally and Bobby had their fun today - now it's time for Mommy's Playdate! Attend this after-hours mixer with like-minded moms looking to put the spice back into their sex lives. Between the "Mommi-tini", store tour, one-on-one sexologist consultation, Good Vibrations's Berkeley branch reminds us that motherhood is way more than a beige minivan and a pair of ill-fitting jeans.
GOING GAGA: Red lace bodysuits, Kermit the Frog ensembles, silver orbiting bubbles, or flame-throwing cone bras - what on Earth does a girl wear on her Monster Ball tour? Have fun finding out tonight Lady Gaga's concert of epic musical and sartorial proportions. This one's for God, the gays, and you at the Bill Graham Civic Auditorium at 7:30 p.m. Get tickets here.

REMEMBER WHEN?: Truman Capote sure does and you can join him on his nostalgic trip when you see A Christmas Memory. Seven-year-old Buddy and his older cousin Sook set out to find fruitcake ingredients and end up with a story worth telling for decades to come. Think back at the Theater Artaud at 7 p.m.