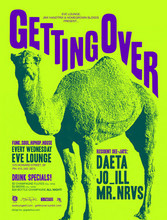 "Having a horrible Monday? Terrible Tuesday? No worries, let's get over the hump together EVERY Wednesday with DJ's Daeta, Jo_Ill, and Geek! "Gettin' Over" will be your Wednesday support group to getting through a tough week. Come through for Happy Hour and continue through the night, while we play your favorite house, funk, soul, 80's, and Hip-Hop classics!!

Eve Lounge in association with Homegrownblends x Jimi Handtrix present...."
With mad drink specials from 5-8pm, and even more after that. The music cranks up at 7p and lasts until 2a.
Who doesn't need bubbles on a Wednesday night, huh?

------------------------
Inner Sunset's music mixes elements of rock, 70's prog, and experimental soundscapes to bring a sound that is both aggressive and pretty. Playing tonight at The Bottom of the Hill is also That Ghost.