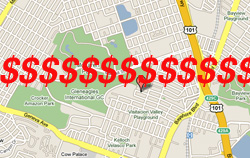 We admit it: Aside from the occasional Under 500 Club field trip, we rarely set foot in Portola, Visitacion Valley, Excelsior, or "the OMI" (Oceanview-Merced Heights-Ingleside). And we're not the only ones— these nabes have been thrown under the bus for years, written off as harbingers of crime and other not-so-lovely goings-on that San Francisco tends to overlook. "Out of sight, out of mind" just isn't cutting it anymore: The gang of four is rallying to revamp its rep by hosting a series of neighborhood festivals to generate the sort of feel-good vibes that bring in the masses. As we all know though, it's all about the Benjamins— enter one San Francisco Neighborhood Marketplace Initiative, a plan designed to help the nine commercial corridors in the areas by financially supporting property owners' efforts to create commercial benefit districts. And it's working— locals are loving the new retail and development sprouting up in the areas, all of which are looking forward to more, more, more.
· Fairs help boost S.F. neighborhoods' profile [SF Gate]
For more stories from Curbed SF, go to sf.curbed.com.
Copyright CURBS