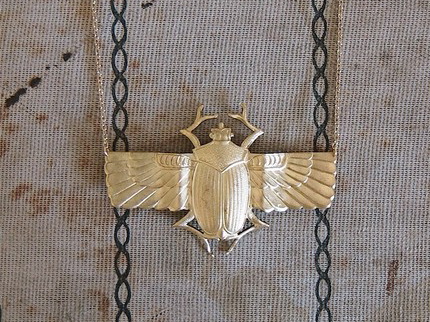 DRESS LIKE AN EGYPTIAN: The Bangles had the right idea - the Egyptians have amazing style. Take a cue from the land of the pyramids with this Kherpi Scarab Necklace by NousSavons, who just showed their collection at the Union Design Festival last Sunday.

BOLD TRAILBLAZER: Just because it's gloomy outside doesn't mean that you have to be drab and gray. This 1970s Pendleton Autumn Blazer stands out with it's bright red/orange hue. Made of wool, it's the perfect layering piece for these rapidly dropping temperatures.

POUCH FROM THE PAST: The iPods and Zunes of the world are fun and all, but after a while, cassette tape nostalgia swings back in full force. It may not be a Walkman, but the Wool Felt Mix Tape Pouch by BraveMoonman can sate your cravings for old school cool. Who knows, maybe next they'll make an 8-track purse.