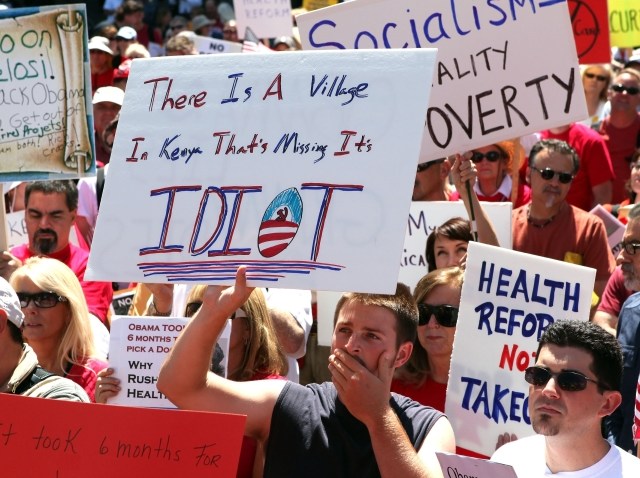 When you get an invitation to a Tea Party event in San Francisco, chances are you'll be going to a tea party, not a political rally. "San Francisco Republicans" is a political oxymoron. But even in the ultra liberal City by the Bay, Republicans are convinced they'll have a role come November.
They won't be electing any Republicans to office in San Francisco. That's a given. But what if either or all of the three statewide races Republicans have their eyes on -- Governor, Lieutenant Governor and Barbara Boxer's seat in the U.S. Senate -- come down to a precious few votes?
Even in San Francisco, Republicans are more enthused than Democrats. Not only do they see the potential for big gains in November, they have some choices to make in the June primary. By contrast, the November ticket for Democrats is practically punched already.
"The Democrats are trotting out the same old faces," said Cory Cook, a political science professor at the University of San Francisco. "It's like they're playing prevent defense."
That's a hard defense to execute with the state's unemployment rate reaching 12.5 percent and government entities slashing jobs and services. And with the state budget deficit expanding by billions, the Republican message of austerity plays across party lines.
Gail Neira, the president of the San Francisco Republican Alliance, says it comes down to a single issue.
"People are concerned about survival," she says.
Cook points to the Defense of Marriage proposition passed by California voters in March 2000. Republican turnout was much stronger, and Prop 22 passed easily. San Franciscans voted overwhelmingly against the law, which defined the union of a man and a woman as the only valid form of marriage in California. But their no vote of some 80% didn't matter because voter turnout in the left-leaning city was 30%.
That's what Republicans are counting on in November, when Barack Obama isn't on the ballot to energize the party. Cook says the Democrats have to mobilize, either in support of Jerry Brown or in opposition to Meg Whitman, assuming she wins the Republican nomination in June. He predicts that if Republicans can win one of the jewels on California's statewide ballot in November, they could end up with the whole crown.
It's still a stretch to think that San Francisco Republicans alone will decide any of the statewide races. But they can be a factor in the Bay Area vote, which could decide outcomes. Turnout in off-year elections has been poor, particularly in liberal, Democratic strongholds like San Francisco, Marin and Alameda. If that trend holds in November, you might have reason to inspect that Tea Party invitation a little more closely.