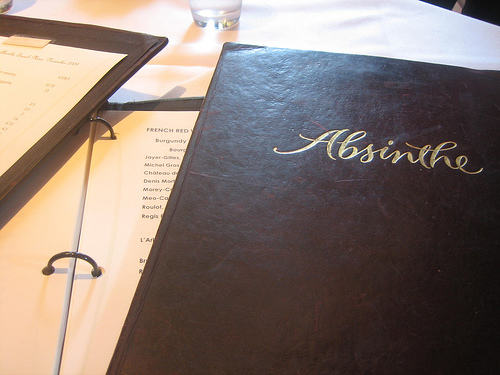 When bar managers Jonny Raglin and Jeff Hollinger moved on from Absinthe to launch Comstock Saloon; Chron Bar Star, Carlos Yturria, stepped up to run the Absinthe bar program.
In addition to adding nightly seasonal creations, he's now launching a pop-up bar called Pickled in Absinthe's private dining room. Starting next Monday and continuing on for every last Monday of the month into perpetuity, around seven Absinthe cocktails will be served along with bar snacks from 5:30 p.m. until 10 p.m. Cocktails for June 28 include things like pisco with figs, sage, lemon juice and a candied fig chip.

And it appears the team isn't yet prepared to announce who will take Jamie Lauren's place as executive chef when she moves to LA at the end of the month. Sous chef Allison Harvey and pastry chef Luis Villavelazquez will be creating next week's five bar snacks, which will all cost $4 each. The Monday night private dining room gathering is likely to intrigue industry folks the most, and it will be interesting to see if it catches on with others in the neighborhood.
· All Comstock Saloon Coverage on Eater SF [~ ESF ~]
· Bar Stars: Carlos Yturria and Dominic Venegas [Chron]
Copyright EATRS