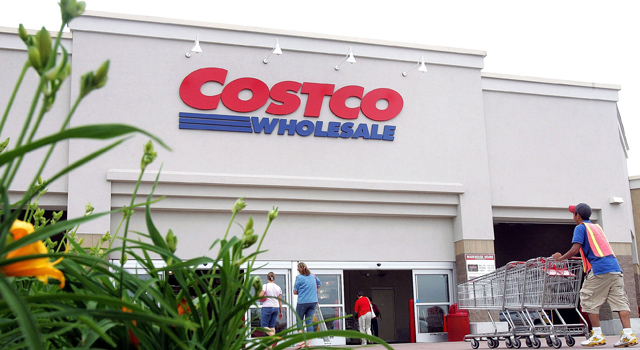 After releasing undercover video of alleged animal cruelty at an Ohio-based veal supplier for Costco, animal rights activists Tuesday urged the wholesaler to take veal off its shelves, and asked consumers to boycott purchasing the product from any stores.
The footage taken by Mercy For Animals at Buckeye Veal Farm in April showed rows of narrow wooden stalls, each of which housed a calf chained by its neck to a low bar. Some calves could be seen trying to pull free.
The footage was combined with images from other farms, including one of a man dragging a calf away from its mother and hurling it into a pen.
"(The calves) are torn from their mothers -- virtually at birth -- and for 18 weeks, they live in those miserable stalls in which they can't turn around, they can't lie down, can't do anything that nature intended for them to do," said Bob Barker, an animal rights activist and former host of "The Price is Right," said at a downtown Los Angeles news conference.
"They live for 18 weeks and then they're hauled off to slaughterhouses where their throats are cut and they die -- that's the best thing Gaylord Barkman, spokesman for Buckeye Veal, said the footage "was very sensationalized and is deceptive."
"The intentional abuse to animals shown on the video was not on our farm, but on a dairy farm with no relation to Buckeye Veal, and also on a packing company with no relation to Buckeye Veal," he said.
Barkman admitted Buckeye Veal has 480 calves in the individual stalls, but added that 850 others have already been moved to "group housing," and 150 more calves are scheduled to be transferred within the next four weeks.
"The rightists, the special interest group, intentionally of course did not show that (even though) they were also in the room that had calves that were not ever tethered or tied and were able to roam around and mingle," Barkman said.
Asked whether chaining the calves in narrow pens constituted cruelty, Barkman replied, "In our facility, we recognize from past experiences -- and we have scientific studies from universities that verified it -- veal calves can be properly cared for either way, in either individual or group pens."
"The needs and the demands of customers are changing and that is why we have made the decision to move completely to group pens," he added.
Nathan Runkle, executive director of Mercy for Animals, said the practice is common in the veal industry.
"Veal production represents one of the cruelest industries on the face of the planet, and its barbaric treatment of baby calves should not be tolerated by any socially responsible grocer," he said. "Californians outlawed the cruel production of veal and it's time that Costco makes the compassionate choice to end the sale of it in their stores."
He urged customers to stop buying veal not only from Costco but other stores.
A representative for Costco had no immediate response to the activists' request, but said the company would likely issue a statement later Tuesday.
In 2008, California voters passed Proposition 2 which outlaws confining calves in veal crates. The measure, however, has yet to take effect. Four other states in the United States have banned the practice, as have all 27 countries in the European Union, according to Mercy for Animals.

Copyright AP - Associated Press