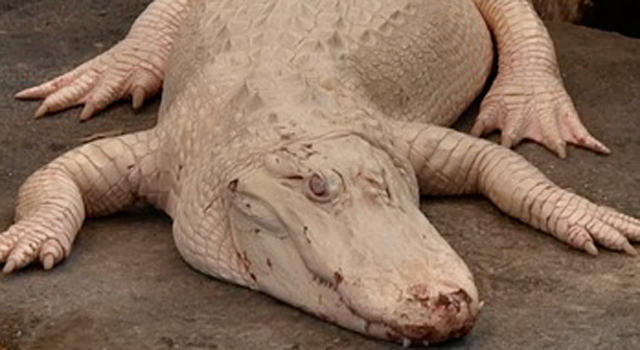 Claude the albino alligator, a main attraction at the California Academy of Sciences in San Francisco, is turning 15 Wednesday, and the party is free for those available to join him.

Claude, who weighs 181 pounds and is 8 feet 5 inches long, is completely white due to albinism, the lack of the pigment melanin in the body.

An albino alligator is extremely rare and can only be found in captivity because it would get killed too easily in the wild, academy spokesman Andrew Ng said.

For his birthday, Claude will receive 15 cupcakes made up of protein pellets when the academy opens at 9:30 a.m., and everyone who is there will sing "Happy Birthday" to him, Ng said.

Claude's birthday happens to coincide with the academy's free day, which falls on the third Wednesday of each month.

Other Claude-related activities will take place during the day, mostly geared toward children. There will be someone dressed up in a Claude costume, and children will be able to make a birthday hat that looks like the alligator, Ng said.

The California Academy of Sciences reopened in Golden Gate Park in 2008 after being closed for renovation for nearly five years.

The following year, Claude ran into some trouble with Bonnie, his female alligator companion.

Due to his albinism, Claude "has bad eyesight, and when he swims around, he bumps into things," Ng said.

One day, Claude was swimming and bumped into Bonnie or something near her, causing her to bite him on the pinky toe of one of his feet. The toe became infected and Claude was placed on medical leave for more than two months.

In March 2009, Bonnie was returned to Florida, and Claude was returned to the exhibit.

Since Bonnie left, Claude "is now more confident, I guess you would say," Ng said. "He's more comfortable in his habitat than if she was around."

Barring any other mishaps, Claude could live to be 80-years-old, according to biologists at the academy.

Claude's special day ends at 5 p.m. when the academy closes at its regularly scheduled time.
Copyright BAYCN - Bay City News