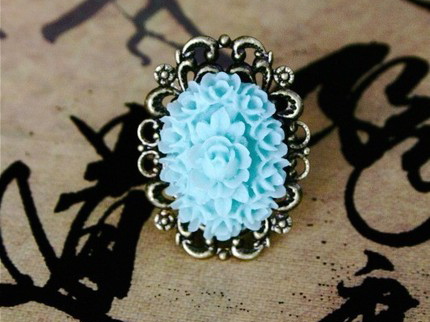 BLACK EARED: It can be a bit of a challenge to wear jewelry of the darkest hue. When done incorrectly it can either look gothic or costume-y, however in the case of these Black Onyx Elongated Drop Leverback earrings, the elegant silver has just the right touch of punk-rock glam.

RING-A-LING: Fall down the rabbit hole with the Alice in Wonderland ring. This light turquoise oval design keeps color simple, which allows its ornate detail to stand out. it's romantic appeal will make you the real queen of hearts.

TUCKER MAXIMUM STYLE: One can go wrong adhering to Tucker Max's crazy, chauvinistic style of living, but it's hard to mess up with a printed classic like this Tucker Sheath Dress. Sold in Blush Boutique, this dress's figure-showcasing waist is just the right about of seductive when complimented by its modest skirt length.