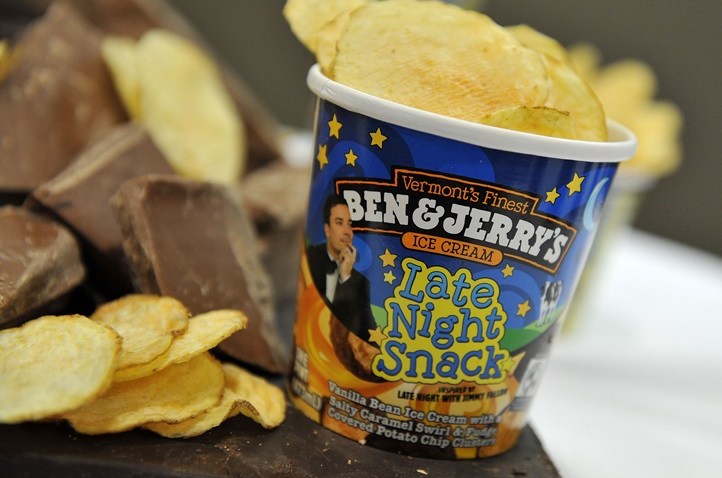 The concept of a bucket is commonly used in relation to ice cream (as in "pass me that ice cream bucket" or "I could eat a bucket of mint chocolate chip about now").
But there's another bucket to consider when pondering the frosty dessert superstar: the bucket list. Trying every Ben & Jerry's flavor appears on more than one bucket list on the 43 Things site, and we have a suspicion that there are a few creative wordsmiths out there who wouldn't mind naming a flavor.
On just about everyone's lower-level bucket list, though? Grab free ice cream when free ice cream is for the taking. Tuesday, April 9 is the much mythologized and idolized Ben & Jerry's Free Cone Day.
The upshot? Show at a Ben & Jerry's and get a free cone of ice cream. Good? Good.
There are a number of locations around the Bay Area:
San Jose - 115 East San Carlos (San Jose)
Haight Ashbury - 1480 Haight Street @ Ashbury (Haight)
Macy's Department Store (Union Square)
Fisherman's Wharf (Pier 41)
Argonaut - 475 Jefferson Street (Fisherman's Wharf)
Jack London Square – 505 Embarcadero (Oakland)
Berkeley - 2128 Oxford Street (Berkeley)
Bon Air Center – 290 Bon Air Center – (Greenbrae)

There are a couple of things to know before you go. One? You gotta love a queue, big or small, to get your mitts on a cone. And two? The Ben & Jerry's site periodically checks out on Free Cone Day due to traffic.
Surprising? Mais non. As stated, everyone but everyone loves free ice cream. But that in the Big Book of Facts and call it a day.
So, while you're waiting in line for your gratis sweet, you'll have time to dream up that flavor name. What shall it be? And what if you had to name a Ben & Jerry's flavor in honor of your neighborhood or city? Santa Mochana? Long Peach? Maltadena?
Take it away, bucket list dreamers. And free cone lovers, too.
Copyright FREEL - NBC Local Media