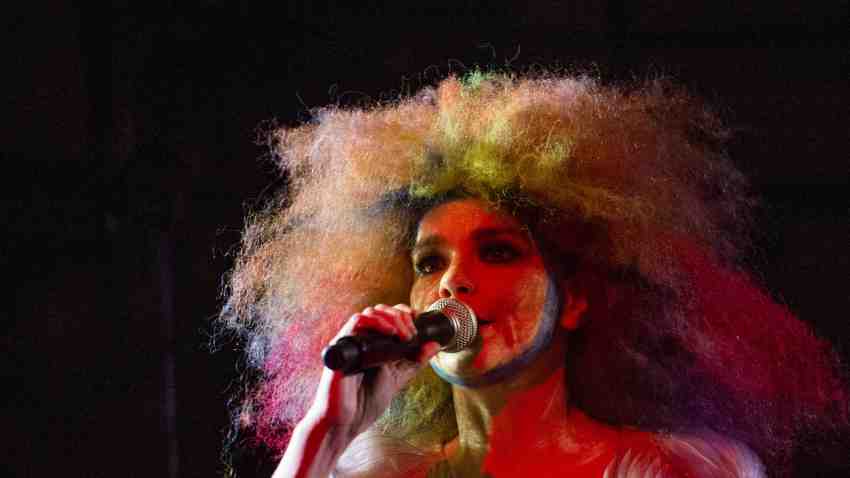 Björk continues her three-show run of the Biophilia live tour at Richmond's Craneway Pavilion on May 25 and 28, and based on our experience watching last night's opener, it's something you should strongly consider if you're at all curious. Here are five reasons why:

5. Saturday tickets just became available
Additional tickets have just been released for the May 25 show, which was previously considered sold out. And as if you don't already have eight video projection screens, a stunning female choir, inventive new instruments, and the woman herself to hold your attention, the Bay Area people-watching is sure to be at its sartorial and social height on Saturday. (Tickets are also available for May 28.)
4. The venue setup is stunning
Craneway Pavilion has been transformed into an intimate theater in the round, with plenty of close-up standing space and tiered risers for those who want to take the scene in as a whole. If you get there early enough, you can watch a spectacular sunset over the Bay and its bridges.
3. She doesn't talk much in between songs, but when she does you'll die of cute overload

Last night, her banter was brief but unconsciously adorable. And without spoiling the end of the show, know that she is counting on your participation.
2. What will she wear?
Last night she wore a fantastically frizzy rainbow hairpiece and a shimmery silver dress that appeared to have a lot of handmade detail, with fabric that looked like orbs from a distance. Her outfits always heighten the performance because she has inimitable style.
1. Björk is full of love

The show is absorbing on many levels; it's both sonically and visually provocative. You'll see that she needs no special effects to boost her naturally gifted and strong voice. And having seen the Biophilia tour in other cities, we also think the addition of the Bay Area's beautiful natural backdrop and the great acoustics in the room makes it all even more special.