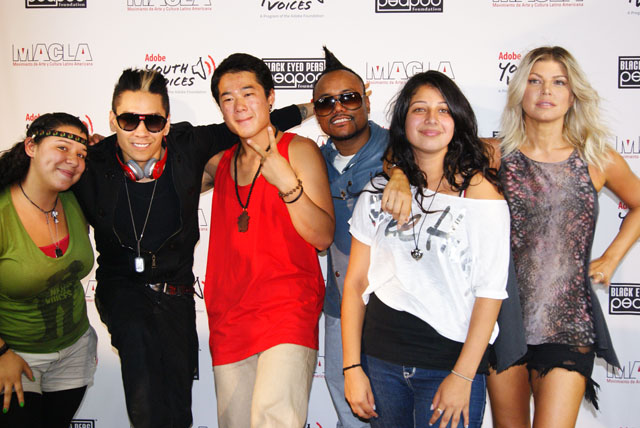 Saturday in downtown San Jose, the Black Eyed Peas joined community youth and the Adobe Foundation to unveil the new PeaPod Adobe Youth Voices music and multimedia academy providing professional and curriculum technologies for art, dance, music and video production for under served youth.

Self-expression, community involvement, and digital literacy are major aims of the academy in order for the youth to share their thoughts and concerns on issues important to them through multimedia skills they gain from the programs.

Saturday Fergie, Apl.de.Ap and Taboo of the popular hip hop group, the Black Eyed Peas opened the new center in San Jose with children from across the globe. will.i.am was not able to attend.

"Self-expression about community issues like budget cuts" is important for the youth to have according to Taboo, a member of the six-time Academy Award-winning Black Eyed Peas. But the group also hopes the academy helps kids "build friendships" at the same time.

Taboo said, without friends "I would've never had the opportunity to be where I am."

The music and multimedia Academy is a place where both nonprofits and the youth believe friendships are built to last.

Elena Braxton-Taylor, 14, and Alondra Medina, 11, illustrate just that. When asked what has been the most memorable experience throughout her two year involvement with the Moviemiento de Arte y Cultura Latino Americana (MACLA) in San Jose, she turned to her friend and said "meeting Alondra."

"I guess you could say that [she's my best friend]," she said as they both looked at each other and laughed.

Anjee Helstrup-Alvarez, executive director of MACLA, explains is a contemporary Latino arts space providing gallery exhibitions, performance programs, and youth arts education programs as a few of their services in downtown San Jose.

MACLA youth will benefit greatly from the new PeaPod Adobe Youth Voices site, which is directly next to the MACLA facility. The organization's popular spoken word program has access to recording and audio equipment which gives them the new opportunity to record their material and to dive into new arenas such as recording their material to a beat and editing and creating tracks on CDs. Performing arts, dance and the successful digital photography program participants can also greatly benefit from recording and editing equipment.

The PeaPod Foundation started in 1999. From a canned food drive, a toy drive, a benefit concert and so on, PeaPod kept growing.

"PeaPod the name starting growing bigger and bigger and it became an academy," Taboo said. It was "a place where kids could learn how to produce music, how to record, how to create their own cds, how to get on computers and create content."

"We wanted to expand, we wanted to bring the multimedia and all the editing equipment, so that's why we collaborated with Adobe Youth Voices," said Apl.de.Ap, another member of the Black Eyed Peas.

Fergie said Adobe "donated so many cameras, computers, laptops. media equipment, tools" with the collaboration of both the PeaPod Foundation and Adobe Youth Voices.

Miguel Salnas, senior manager of Adobe Youth Voices, has been with the global philanthropic program of the Adobe Foundation since the beginning stages.

He said "they realized there was an excellent alignment between the Peapod mission to "encourage social change by uniting people through the universal language of music," and the Adobe Youth Voices mission to "empower youth from under served communities to use technology to explore and express their perspectives on issues impacting them and their communities."

"The Peapod Foundation provides the "sound studio" including all the recording, soundboard and audio equipment and Adobe provides the software tools -- such as the Creative Suite Production Premium -- and curriculum," Salinas said.

The Adobe Foundation is no stranger to empowering educators and youth. More than $7 million is annually invested to the Adobe Youth Voices program. This has allowed 700 Adobe Youth Voices sites to be established in classrooms, after school programs, and community organizations all over the globe in 45 different countries.

This past week Adobe Youth Voices held their 2011 Summit, flying in youth from country such as Costa Rica, Argentina, Columbia, Jordan, Ireland, New Zealand, Canada, and from states such as New York, Massachusetts, and Texas. Of course, youth from Hayward, San Francisco and good old San Jose represented the Bay Area.

"Adobe, the staff, the people are very genuine…they really care about the inner-cities and they really care about our vision to be humanitarians and not just artists…the relationship is great and I can't wait to do more with them." Taboo said.

This was a momentous event for everyone involved for a variety of reasons.

"For me as a Mexican-American…being able to represent my community and to let them know how important it is for them to express themselves," Taboo said. "And eventually, I hope one of these days, I hope we could get it to Mexico, where my family is from."

The Black Eyed Peas believe this is where dreams begin for artists that are hidden gems and need a place to go. Taboo's dream started with friendship and a passion to succeed for himself.

He wants his success to demonstrate that anyone can succeed, regardless of circumstances that may be difficult.

"Being a parent at a young age (17), I felt hungry and passion to pursue my dream even harder and stronger for my family," he said.

And he did. Six Grammy's later, Taboo can proudly provide for his family and will be sending off his son - who is also a talented DJ, according Fergie -- to his first year of college in the fall to come.

For Fergie, she tells that each member from the Black Eyed Peas had a guardian angel on their way to success.

"We want to be those guardian angels for young artists," she said.

After being a child actor, having spent all her money by 18, collecting unemployment, deciding whether it was worth spending $3 at Taco Bell, she realized dreams change on the way up.

Fergie believes the academy is a place where youth "have a safe place to go after the school bell ring, but before you get home." It's a place where they can dream big and make dreams come into fruition.

Apl.De.Ap said the academy hits close to home.

"I was adopted from the Philippines [in 1989]." He was motivated and dreamed big in order to "support my family, sustain them, and move my family to the US."

The youth participants performed for the BEP in a private ceremony at the new site. Performances and screenings of various youth film projects followed the ceremony at the California Theatre in San Jose, just down the block from the academy.

The BEP came out on stage for a little singing and dancing with the youth and each member spoke on the importance of the organization, what the Adobe Youth Voices has accomplished since 2006, and why they felt it was important to collaborate with AYV.

Lots of laughs during the BEP talks, youth performances, and multimedia projects illustrating what the youth have learned through the projects ended the night off in high spirits and motivation for personal and social change.

For other PeaPod Adobe Youth Voices locations, all their services, and an archive gallery of hundreds of youth projects, go to www.youthvoices.adobe.com/peapod.