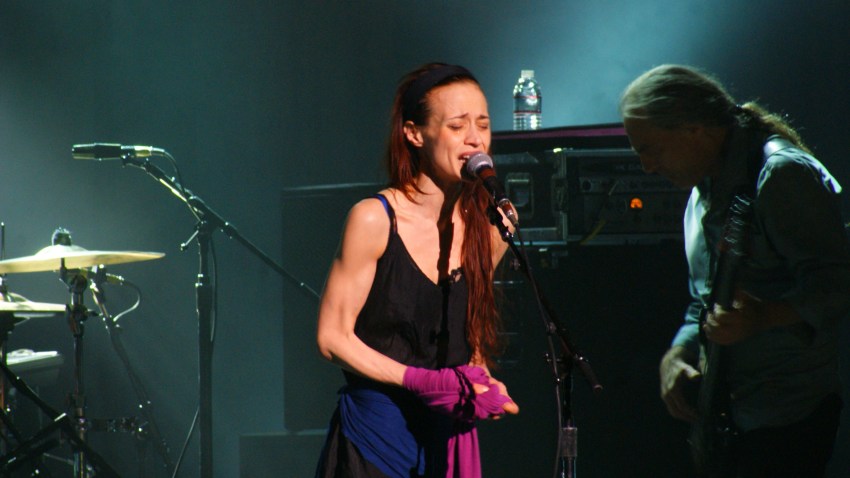 As thrilled as fans were to see Fiona Apple perform this past weekend at the Fox Theatre in Oakland, the music accompanying her vocals was just as exhilarating. While Apple played the piano on and off, she had the luxury of virtuoso guitarist Blake Mills playing along with her.

If you don't know Blake Mills, it's time that you do. At the age of 25, Mills is the talent behind the talent.
Virtuoso guitarist for Conor Oberst, Julian Casablancas, Cass McCombs, Band of Horses, Dawes, Lucinda Williams, and currently touring with Fiona Apple, he has a powerhouse of a resume.

He's currently Apple's guitarist on her tour, but Mills is also the opening act performing his solo music. Mills is a young artist you don't want to skim passed or a set you want to talk through if you happen to go to see Apple in concert. Mills gave us a generous amount of time to get to hear about performing solo, his experiences with other artists, how he got started and where he sees himself going in the industry.

Playing guitar for another artist and performing solo has its differences, according to Mills. "All this stuff I'm performing in my solo career is so personal. To be in a situation where you're trying to announce these things, it seems unnatural to express them that way. It's a self-therapeutic medication and to a certain degree I'm attached to my songs," she said.

When asked if going up on stage is something a talented musician like himself still has to get used to, Mills responded, "Definitely! Being up there is like you're showing up to a party uninvited. It's a necessary evil for shows. Not playing with a band with the opening set - you put your head down and do it. It's a nasty business. You can tell what venues are going to be chattier, (and you think) 'Oh no, it's going to be one of those nights.'"

"Once you're on stage, it's like you're in a gang, a mob mentality. It's an emotional roller coaster, you don't want to do this, but you're so blessed to do this," she added.

It's an uncomfortable situation, and not the first for Blake Mills. He recalls an uncomfortable situation he experienced at a young age. "I was ten when I started picking up the guitar. It became a really good excuse to stay indoors - I was kind of a hermit. After years of playing songs, my dad took me to a concert at a record shop - Bob Brozman. I seen him play and it turned me on to listen more intently and be more creative."

After the show in Santa Cruz, Mills' father took him up to the stage to meet and talk to Brozman. As uncomfortable as a situation it was for a young Mills, it led to the young guitarist learning from Brozman and to them "playing gigs together."

Mills' musical skills come from natural talent combined with immense practice, but also from his father being a large source of support. "We had a relationship where if he tries to turn me on to something - a few years later I would come around to it. He was the engine behind what helped me grow so quickly as a player. I had a dad who was willing to put me in those situations," Mills said.

"There are these situations that allow for an opportunity that would otherwise not happen," he added.

The opportunities that Mills has had during his musical career have been significant. "It's a pinch yourself sort of situation. The stuff I get to do these days, I'm trying to stay as busy as I can - saying yes to everything. Most of the things I do are too good to say no to - the opportunity to work with Fiona or Lucinda Williams, or to work with Jackson."

Mills is referring to Jackson Browne, the legendary musician and singer-songwriter known for for his songs "Running on Empty," "Doctor My Eyes" and many more.

With what seems to sound like awe in his voice, Mills continues to talk about his relationships with some of the most established and talented musicians.

"Before the tour with Fiona, I was at Jackson's place showing him some songs I want to play with Fiona. I was showing him this tune. He made some suggestions. I did it per his suggestion, and he opened his arms and he had goosebumps."

"I get to be around the hardest working and most talented people I've heard," Mills said.

"A year in a a bus with Lucinda Williams, up every night, talking to her about song writing and being a solo performer. Same thing with Fiona at 2 a.m. in the middle of the country. There's musical dialogue that takes place," Mills said.

He gives an example of the musical conversation that occurs between himself and other musicians.

"One way to put it is that it's so common for an artist, especially one that's been working for ten or fifteen years to say 'I hate playing that song.' A lot of times they want somebody to come in and redecorate their house. Again, it's an uncomfortable situation, but putting forth ideas and not being afraid to change it is something they welcome. It's live re-mixing going on."

"It helps to break down barriers and walls. Once those walls are broken is when the late night conversations about music begin."

It's safe to assume that at such a young age, working with some of the greatest talents, and being a musical extraordinaire that rising to the top is not far out of his reach. Mills wants just that, but doesn't want the common perception of it.

"I feel like I'm part of something that I consider beautiful. There are other things that might be more obviously rewarding, but were unfulfilling. Fame and fortune has been easy to avoid and not pursue when you get to work with people like Fiona. Getting that fix being part of the music does it."

And Blake Mills will continue to get his fix. Prospects of more solo work exist. "I'm looking forward to releasing another record. Solo work, definitely. Get to go home, and process the things that happened and haven't happened in my life. I'll be writing, but don't know at what rate. I go in and out of phases of seclusion and going ballistic."

"Talking about collaboration work and all kinds of fun. Doing stuff with Fiona hopefully. Being able to be home and see what we can do in a month with the people in town."

Whether you're a musician or a music lover, Blake Mills music will leave a lasting imprint that you don't want to miss out on. And if you did miss the show the first time around, count your blessings because you just got one more. Fiona Apple will be gracing the Bay Area with Blake Mills as her opening act once again.

You can check them out at the San Jose Civic Auditorium on September 9 or at the Warfield Theatre in San Francisco on September 11.

You can find more information on Mills at this link.