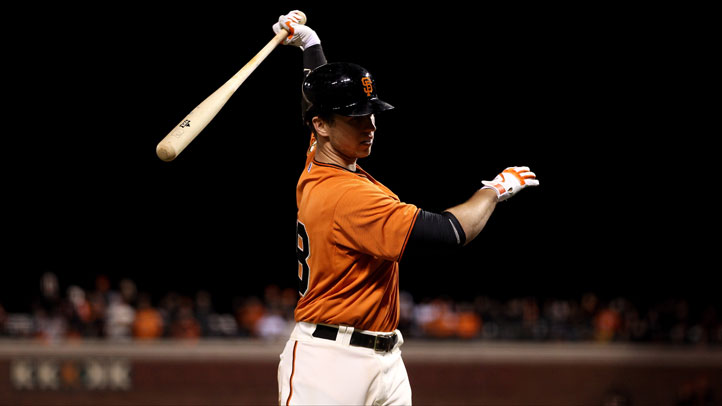 Optimism was widespread heading into 2012 when it came to Giants catcher Buster Posey. After all, the former Rookie of the Year recovered ahead of schedule from his nasty 2011 injury, and it seemed possible he might get back to the form he flashed in 2010.
Those expectations haven't given way to disappointment at all, as Posey's hit four home runs, knocked in 12 RBI and put up a .304/.355/.471 line through the first 28 games of his season.
But something's seemed off lately -- Posey hasn't homered since April 27 and has only walked once in the month of May, while striking out 11 times in just nine games. (Posey struck out just 14 times in 19 games during March and April.)
Andrew Baggarly of CSNBayArea.com spoke to one scout, in fact, who believes Posey "looked worn down" during a recent game that featured three strikeouts by the star catcher.
"I talked to a scout who remarked that Posey looked worn down," Baggarly wrote Thursday. "He's not running as well as he did in the spring. He isn't moving as well behind the plate, either. And the scout remarked that Posey's at-bats are dropping off in quality in the later innings."
As Baggs points out, there's truth to what the scout is saying. Posey's hitting .361 in the first three innings this season, and his average plummets below .300 in the later innings. 14 of his 25 strikeouts have come in innings 7-9 and it's clear that with an absence of Pablo Sandoval and Posey not in complete regular-season shape, he's not hitting as well as he possibly could.
That's something that manager Bruce Bochy is willing to acknowledge as well.
"He's been out there quite a bit," Bochy said. "I'm sure he's tired. We had trouble getting off the field there. It's probably good for him to get a day."
The biggest concern is that the Giants need Posey to stay somewhat fresh throughout the season. With an abundance of catching talent (or, at least, Hector Sanchez) on the roster that should be possible.
Now the Giants just need to make sure that happens.